(Never Too Much podcast: Defending Jerry Krause, October of 1997, talkin' 1990s hoops with Maddy, click 'Listen in podcast app' to subscribe!)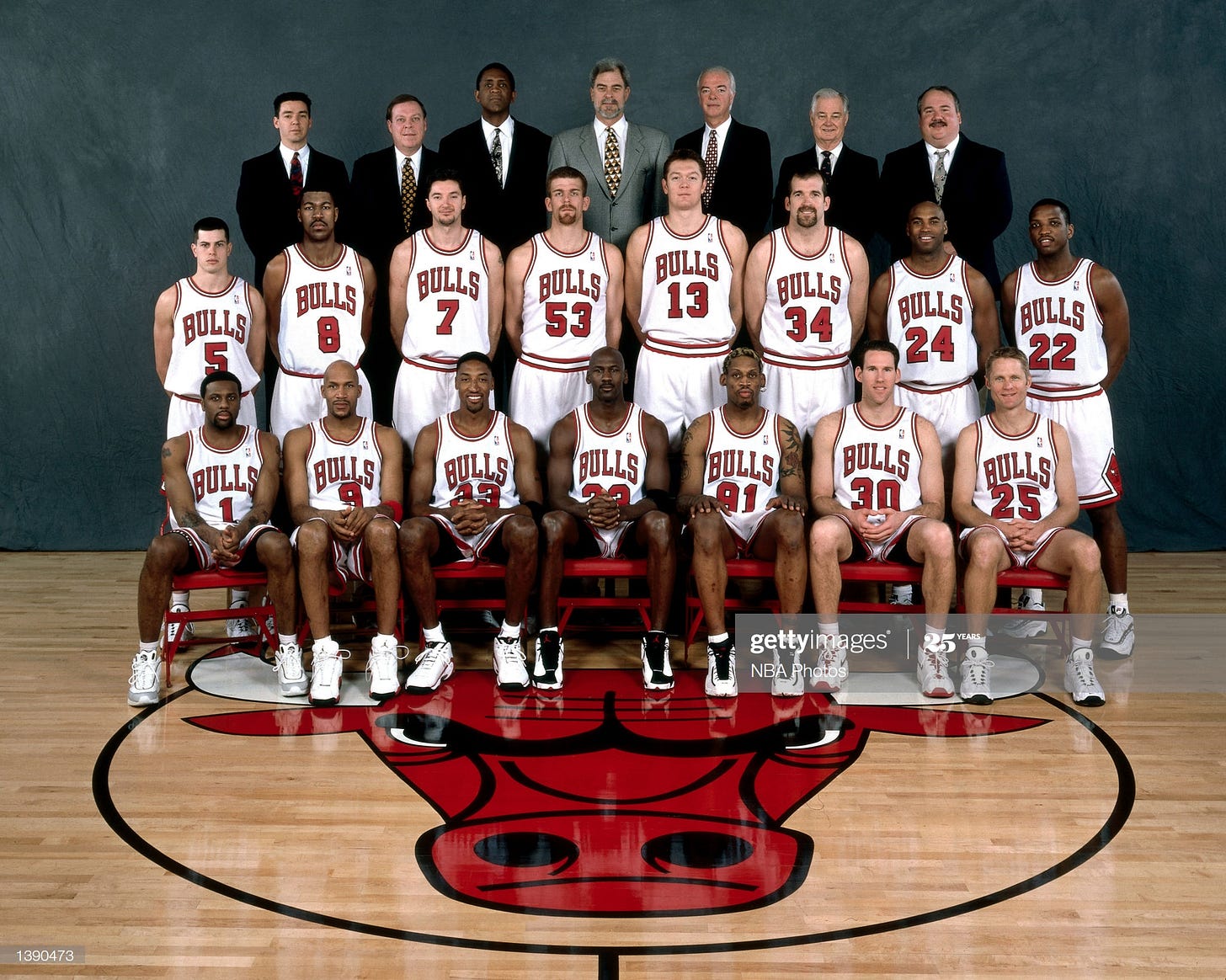 NOVEMBER WAS BLEAK
Scottie Pippen hurt his foot in the 1997 Eastern finals but played through it, averaging 20 points, 8.3 rebounds and 3.5 combined steals/blocks in the 1997 NBA Finals. He was set to enter 1997-98 as the NBA's 122nd-highest paid player, working off a long-term contract signed during the days when emerging NBA stars could re-negotiate contracts on the fly.
No such provision existed in 1997, but Pippen had to vent somehow.
Pippen's yearly charity game at the United Center hit in September 1997, unrolling the usual cadre of big names: Gary Payton, Jason Kidd, Ray Allen, Chicagoans Antoine Walker and Michael Finley alongside other NBA notables. Chicago Bulls Randy Brown and Ron Harper were also scheduled to appear.
Chicago general manager Jerry Krause sent Pippen a notice before the contest, warning him not to play, allegedly threatening Pip with a fine if he set (injured) foot on court. This outreach, paired with legitimate trade rumors that had Scottie Pippen in a Boston Celtics uniform throughout part of the previous summer, infuriated Pippen. He thought he'd seen enough already.
Pippen skipped his charity game and underwent foot surgery in October, a good three months after he shoulda gone under the knife, it cost Scottie the first three months of 1997-98. After working 95 games in 1995-96 and 101 contests in 1996-97, Pip was going to do what was best for his beat-to-hell body ahead of one final free agent turn.
And for good reason. No other Bull, not even Dennis Rodman, threw himself around as much as Scottie Pippen during the second three-peat.
(Krause would re-recognize as much at the 1998 NBA Finals, away from the ring, spying a shot of the Bulls training staff flat-out wailing on Pippen's back with fists and arms during Game 6, literally trying to push the spasms out.)
Before Jerry could grow wise, however, Pippen had to play out his frustrations in the press. Scottie begged Arlington Heights Daily Herald beat reporter Kent McDill to quote him on record, to put his trade demands in print.
"I ain't coming back," Pippen told the Arlington Heights (Ill.) Daily Herald on Sunday night.

"I want to be traded. I want to go to Phoenix or L.A."
The Suns boasted Jason Kidd, Phoenix was first in line with cap space in the bid to sign Pippen when he became a free agent the next offseason.
Pippen said the thing that finally set him off was a letter from Krause in the summer telling Pippen that because of his injured foot, he could not play in his own charity game. Pippen said Krause threatened to fine him if he did play.
"Can you believe it?" Pippen said.
Pippen had surgery on his foot in October and is expected to be out until December or possibly January. But when Pippen was told he would not be traded if he was injured, he said, "Maybe I'm healthy."

Monday, his only comment was, "I'm fine."
Pippen's malingerer turn was unexpected, but it was likely just a boast — Pippen's soft tissue injury would need the full three months to heal.
Jerry Krause traveled with his club, ridiculously, even sticking on the players and coaches bus to games and airports. Days after Pippen's trade demand, on a bus trip to a hotel in Seattle, an intoxicated Pippen unloaded on his boss in full view of his teammates and coaches, screaming at Krause, again demanding to be traded.
Chicago coach Phil Jackson's lone counter was to wheel around, pick up an empty bottle of beer, and point to Pippen — you've had enough.
Bulls reserve center Joe Kleine, on his first road trip with the team, assumed his new coach was toasting Pippen.
Chicago stumbled into Seattle to take on new SuperSonic Vin Baker and the rest of coach George Karl's club. Baker popped a game-winner over Luc Longley to seal the game, dropping the Bulls to 8-6 on the season.
A loss in Indianapolis a few days later dropped the defending champions to 8-7.
It was low, man. Low.
RODMAN SAVED EVERYONE'S SPIRITS, JUMPERS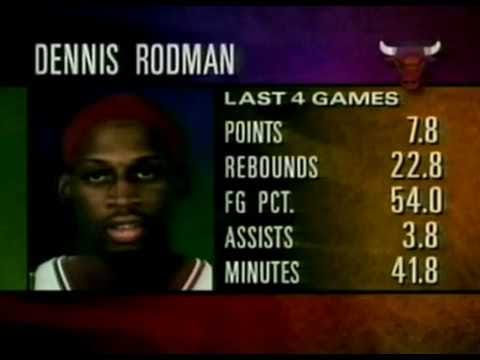 In a 15-game stretch between Dec. 10 and January 7, Rodman averaged 19.4 rebounds per game. In the spot when the Bulls needed him the most — with few other advantages on the table — Rodman won the club game after game after game.
The Bulls enjoyed about 89 possessions per game in 1997-98, the lowest mark (Charlotte) in 2019-20 was 96 possessions per game — it was a different battlefield and there weren't a lot of caroms to share with the other nine guys out there.
Buoyed by an incentive-laden contract in 1997-98, Dennis led the NBA in defensive and total rebound percentage that year at age 36, averaging 15 boards per game. His run was crucial for Chicago's chances — Dennis takes a few more days off and the Bulls play Game 7 of the 1998 Eastern finals in Indianapolis.
Rodman earned the dragging defending champions chance after chance with his 17 percent offensive rebounding percentage (tops in 2019-20: 23-year old 7-footer Ivica Zubac at 15.2) and deft passing.
A waltz through the lane with the Dallas Mavericks isn't the stiffest kitten in the litter (that would be Atlanta), but the touch is just the same:
EVERYONE WAS TIRED AND OLD AND INJURED
After working 100 games to glory in 1995-96 and 101 in 1997's successful title defense, the thirtysomething Bulls were mostly blown to bits by the time 1997-98 arrived.
These bangups persisted throughout the regular season and playoffs, ponder this beset rotation:
Michael Jordan — fucked up shooting wrist.
Toni Kukoc — major plantar fasciitis flares, out of shape upon re-entry.
Bill Wennington — plantar fasciitis (missed 1997 postseason).
Luc Longley — plantar fasciitis, knee problems.
Steve Kerr — broken collarbone suffered when Derrick Coleman sat on him.
Scottie Pippen — surgery, protest.
Rodman — just fine.
Ron Harper — 82 goddamn games, pal.
The scenario played out as you'd expect: Chicago limped to ninth in offense in 1997-98, Jordan shot a career-low (in a full season) from the floor. The team was 24th out of 29 teams in free throw attempts despite Jordan attending to nine free throw chances per game.
It was the sort of year where Luc Longley (a career-high 11.4 points per game) had to step up to survive. Nobody was aided by the extended three-point line. Steve Kerr rang 57-130 (43.8 percent) from behind the arc but Chicago was 23rd out of 29 teams in three-point percentage.
Pippen's return on January 10 didn't immediately ring with streaks of splendor.
Recall that this was how Pippen rated out to Phil Jackson in December:
Our strength coach, Al Vermeil, worked Scottie out today, and was stunned to find his vertical leap is only 17 inches.

That's the same as Joe Kleine's.

Scottie's used to be 30 inches or so. His leg strength is shot. So now we're looking at another month or more of rehab.
JERRY KRAUSE FUCKING HATED PHIL JACKSON
PHIL JACKSON FUCKING HATED JERRY KRAUSE
"I don't care if it's 82-and-oh this year, you're fucking gone."
That's what Jerry Krause said to Phil Jackson behind closed doors.
What he said in public was nearly as strident:
"Phil only wanted to coach one more year, and we only wanted Phil to coach one more year."
Hamstrung by payroll constraints — Michael Jordan's $33.4 million contract alone exceeded 1997-98's $26.8 million salary cap — Krause was forced to dance around the margins.
He signed Joe Kleine to the veteran's minimum and, in the first Bulls trade since the team's acquisition of Dennis Rodman two years earlier, Krause traded for veteran swingman Scott Burrell in September, 1997.
The price was 1994's first round draft pick Dickey Simpkins, a 6-10'ish power forward left off Chicago's playoff roster in 1995, 1996, and 1997.
(It was around this time Chicago Tribune columnist Bernie Lincicome misquoted Jerry Krause about the whole "players and coaches don't win championships, organizations do"-thing.
Lincicome was among those who relayed the quote incorrectly to Michael Jordan, which led to Jordan's Flu Game-inspired counter: "I didn't see the organization playing sick last year."
Krause's actual line, as recounted to Adrian Wojnarowski, was "'Players and coaches alone don't win championships. Organizations do."
This is also what the beat writers in Krause's presence — including the late Lacy J. Banks and Terry Armour — heard.)
Reserve power forward Jason Caffey enjoyed life in 1996-97 as Rodman's reserve, a starting chore during Dennis' bouts with suspension and injury.
With Rodman on good behavior in 1997-98, however, Caffey's minutes dimmed and frustrations grew. A close relative of his was murdered early in the campaign, which also doubled as Caffey's contract year.
Caffey was 6-6, and Chicago was desperate for someone to at least approximate Bison Dele's defensive performance from the previous season, a Scott Williams-type. The champs needed someone, eh, about Dickey Simpkins' length.
Krause unexpectedly dealt Caffey at the 1998 trade deadline for taller forward David Vaughn, who played three times, dunking once in a blowout win over Cleveland, before his release.
Caffey averaged 10.9 points and 5.9 rebounds in 25 minutes per game with Golden State after the trade deadline, re-igniting Phil Jackson's rather paranoid concerns that his front office was rooting for his club's demise. These initial concerns reportedly bubbled after Krause's "we only wanted Phil to coach one more year"-comment the previous summer.
Krause responded by finding his 6-10 forward off of the waiver wire: Dickey Simpkins signed with the Bulls for the rest of 1997-98.
Because Simpkins was released by Golden State to make room for Jason Caffey.
"This is a strange business," Simpkins said, shaking his head.

"You never understand why teams do this and why teams do that. You just have to keep it in perspective. That's one thing I've learned."
Simpkins made the 1998 playoff roster. He averaged 1.2 points and one rebound in 5.7 minutes per contest, shooting 37 percent from the field.
INDIANA WAS NEVER SCARY, COME ON
Michael Jordan wasn't part of many Game Sevens — der wuz 1990's famous loss in Detroit, plus a beatdown of the Knicks in 1992's Eastern semifinals.
The Pacers extension to seven games against Chicago in 1998 was legitimate. Indiana's movement (benched by offensive coordinator Rick Carlisle) was miles ascendant from the trudge Larry Brown left as Pacer coach in the mid-1990s, the beef inside was considerable, Larry Bird's club shot 39 percent from deep.
Farmboys, all.
Not an issue.
Chicago won Game 5 at home by 84 points with MJ busting Fred Hoiberg, Jordan had to slip for Indiana to get away with Game 6, all Mike had to do in Game 7 was bury his head and, boom, 15 free throws.
(ESPN better show some Kukoc highlights.)
UTAH WAS SCARY
If there was ever any doubt, it was in Utah.
Utah earned home court advantage in the Finals, and the Jazz skunked Chicago in Salt Lake City during the regular season. The Jazz also took two of three against Chicago in Utah during the 1997, the team had an edge.
In Game 1, it showed. Badly. John Stockton killed 'em by death. Stupid bangs and all.
The defending champs dragged it to overtime before Stockton scored over Kerr on a couple of drives, Stockton destroyed him all night.
Flash back a few years, 1983.
Kerr's only scholarship offer out of high school was to Gonzaga. The school invited him up for a trip to campus, and chance to play with the varsity.
John Stockton was about to enter his senior year, and Steve Kerr From 1997 will take it from here:
"He kicked my butt," said Kerr, the memory obviously as keen today as it was the day it happened 14 springs ago.

"He worked me over, up and down the court. He was quicker, he was faster. He was nice about it, but he kicked my butt . . . This guy nobody'd ever heard of. I was devastated."
As were the Gonzaga coaches.
They didn't even bother to wait until Kerr flew back to Los Angeles to give him their decision.
"They said thanks but no thanks," said Kerr. "They wouldn't be needing my services."
In the United Center hallway, Kerr paused.
"You know," he finally added, "I wonder if John Stockton even remembers that day?"
(Remembers the day he cost a scholarship to a kid that eventually ended up in the Final Four, same kid he played in the NBA a bunch of times, including these here NBA Finals?
Probably.)
It was Chicago's good luck that Arizona coach Lute Olsen stepped in to give Kerr the shot at playing college ball. Steve Kerr's Game 2 rebound gave Chicago its 1998 title.
I don't mean "Steve Kerr's comeback," I mean, "Steve Kerr's rebound."
With his Bulls down 85-84 and less than a minute remaining in Game 2, Kerr pulled up for an open transition three-pointer. It missed, but Kerr wrested the rebound away from Last Two Minutes of a Close Game Karl Malone and dished to Jordan near the basket.
Michael's and-1 put the Bulls up two points, a decisive lead.
NBA.com captured it brilliantly at the time:
The win in Game 2 stole the home-court advantage, and Chicago held Utah to 54 points in Game 3 and prevailed sensibly in Game 4.
Though the Jazz extended the season with a Game 5 win, Chicago already had three wins in the bag. The power forward was wrestling and gambling with Billy Corgan, in his off-wrestling hours. It was a grin by then.
From the Washington Post's Michael Wilbon, in 1998:
Did you hear the word Michael Jordan used late Friday night to describe the final 1.1 seconds of Game 5, when the Bulls had the ball and were drawing up a final play to win the game and a sixth NBA championship?
"Cute." That's the word he used.

"I thought it was cute just thinking about it," he said.
It was. And after a stop and a score, everyone got to go away for the summer.
If you're looking for Bulls stuff, stuff about Michael, this is your place.
For as long as this lasts, we are documenting every game of Michael Jordan's second three-peat.
We're in the 1995 comeback right now, and this goes through the summer, through fall, as long as we have to. Emails full of anecdotes, updates, clips, goodness, 72-win greatness. A good time in front of your laptop, a fine time in control of your phone.
PREVIOUSLY IN 1995
PIPPEN RIPS KRAUSE : BULLS WITHOUT MJ : MJ BACK : MJ GOOD NOW : ORLANDO BRINGS THE RAIN : MICHAEL IN ATLANTA : FREE TOP 55 KNICKS (MICHAEL JORDAN SCORED ON) FREE : BOSTON'S IN CHICAGO : 10-9-8-76ERS : WHOOP-DE-DAMN-DO
NEXT: WEEKEND WITH CLEVELAND
Thank you for reading, listening!
(More to come.)