Here is the second set, from the middle to the top, the lower half was ranked on Sunday and you can totally read it for free as well.
We crack jokes and try to analyze the things that matter most. This space is free of television, blog and Twitter chatter, these emails are only influenced by the games themselves.
I understand that it's weird to pay a single writer, but Tom Ziller is right, this is an independent operation and there aren't many of these solo acts flying around these days — I'm not supported by a cadre of investors and I'm not part of a larger operation, I'm just trying to come up with February's rent five bucks at a time.
Oh, quit whining.
LOS ANGELES LAKERS
Make it on hoops.
"There is nothing wrong with watching LeBron all over again, especially when he's doing everything we've ever asked." — Dec. 6.
"Tune into Stu Lantz. He's worked into our Kent Brockman, minus the hubris, trying to keep one eye on standards and practices while marveling at the mess that the world around him spun into." — Dec. 16.
"Worrying about the Lakers is impossible to me, I've as many misgivings as anyone about the club's individual scouting reports but I'm also of a century (I purchase compact discs) where I don't expect every player to be fully formed and super-amazing by the age of 21." — Jan. 4.
No. 9 in the West, 25-22.
UTAH JAZZ
Give the album another listen.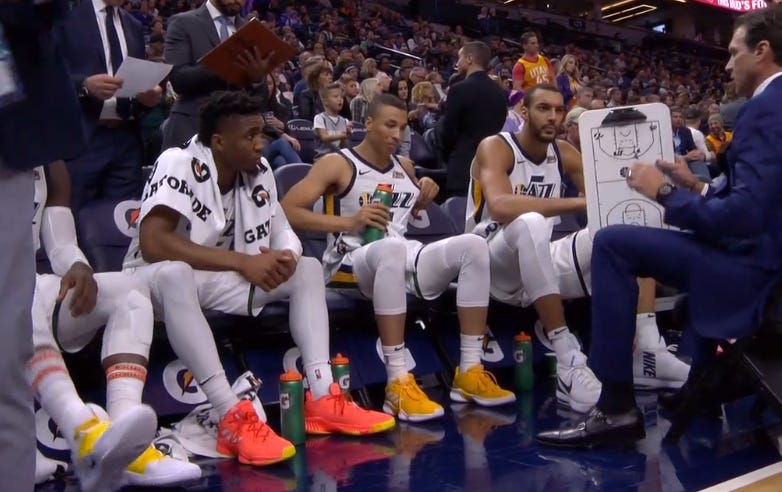 "The team didn't fold a collarbone cram into each of its defensive calculations last season, it didn't get by on grabs and holds and what the referees didn't see, but the club currently struggles because this year is different.

"More and more inhibitions draw whistles, the Jazz are suddenly among the league's worst five clubs in stopping the dreaded "eFG" and the little percentage symbol that comes right after that.
"Let 'em work, I say. The Jazz should be allowed room to come back from this fit of anger. They'll take a walk in the rain, the answers aren't gonna to be waiting under the covers when the steps run out but at least Utah will get the inessential voices out of its heads." — Nov. 17.
No. 7 in the West, 26-21.
L.A. CLIPPERS
Always a reliable watch, even if Kerry still can't keep up with all those pots.
"Marcin Gortat is not working for this team as lead center, he tries hard and looks to be in the right places (but if you wait a half-second, he ain't).
"Montrezl Harrell plays the best minutes of the triptych but the team isn't familiar with his style as a starter yet, same as Montrezl runs with his own thoughts on the subject. Boban Marjanovich is just too good a basketball player to work for long stretches, we want to keep this game fair. " — Nov. 2.
"Lou isn't your best passer, he isn't a point guard, he's not tall enough to wonder about Ray Allen's eyebrows and he ain't fast enough to help you forget that he played with the Hawks.

"Yet we're all the way here, deep into repeated TNT Thursday nights, and Lou Williams is balling, that, jack." — Nov. 16.
"Tobias Harris, mostly-superstar. Shai Gilgeous-Alexander, dopamine for days. And Montrezl Harrell, well, he's just set to dunk in some wins for you." — Nov. 30.
No. 8 in the West, 25-21.
TORONTO RAPTORS
Read on:
"Toronto is patient, now. There's no looming LeBron to ruin a night out, to pull your head back into the pillow after you dared consider wresting its heft and burden right outta bed.

"The Raptors are just gonna work until Toronto gets the shot it likes. Defensively, Raps won't fret until you've shown your hand while dribbling, dribbling, dribbling. There's so little to worry about now, this entire production won't eventually end in LeBron James' lap and this has left Toronto to work within its moment." — Oct. 31.
"This won't be a top-heavy show for too long, Siakam, man, it's growing." — Nov. 17.
"Kyle Lowry was your fork in the garbage disposal, swirling around and causing sparks and reminding us of the sort of struggle that the Raptors have always been about." — Dec. 13.
"Toronto coach Nick Nurse prepared for this in summer, early summer, he has the plays and Kawhi has the insight." — Jan. 2.
Best team in the East, 35-13.
SAN ANTONIO SPURS
Coach of the Year, without a doubt, but I don't want to upset Gregg Popovich's schedule with the promotional and press-related duties that are tied to the honor.
Give the man gift cards that he can use in an airport.
Better yet,
"The Spurs are improving, the Spurs are damn good, and you can't turn the ball over against San Antonio and you can't let this club walk into its three-pointers. You can't take parts of a play off against the Spurs, you can't let your incoming paper do the talking, you gotta pay attention on every damn possession in San Antonio.
"The Spurs have quarterly reviews, literal ones. There are chairs, but everyone stands." — Dec. 27.
"The Spurs tempt you into taking the shots you shouldn't, I mean, we're not supposed to be in this part of the forest." — Jan. 19.
Sixth in the West, 27-21.
PORTLAND TRAIL BLAZERS
Looking forward to Blazer games at night the way I used to look forward to those 11:35 'Seinfeld' re-runs.
"The Trail Blazers take periodic breaks from defense, one performer will overplay and the rest of the cast will remind that (guard) that this is no historic outfit, that there are no 7-foot saviors in place to make that last stupid twirl of yours a memory, only a hard-charging Nurkic. The Blazers are top-ten in D this year, but sustaining that ranking demands serenity from each of the participants." — Nov. 17.
"(Kevin Calabro.)" — Nov. 29.
"Some old school Stottsisms in this Blazers win, real heap of Stotts Play. Action was slowed but not too slow, defense was good but not too good, Vincent Askew couldn't have been more than a few feet away (in spirit)." — Jan. 8.
Fourth in the West, 28-19.
Negative birthday time.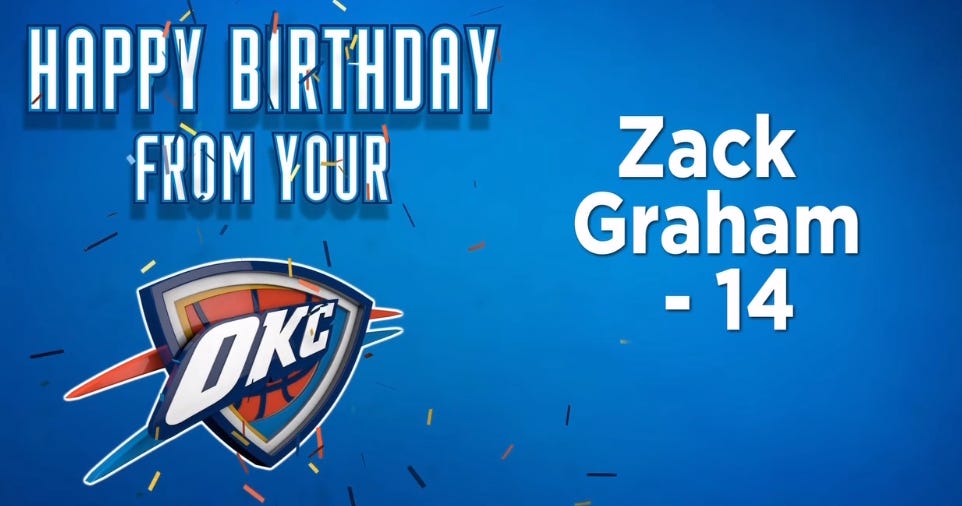 OKLAHOMA CITY THUNDER
I analyze this team poorly because I enjoy watching them so much, for some reason I think the Thunder get warmer when we do.
"Jerami Grant looks like someone who you won't recognize by the end of spring semester, the man is fun and curious." — Nov. 29.
"Turns out you're really going to have to be great against Oklahoma City's defense, this isn't a normal team, these won't be normal games.
"Opponents have to show up ready to execute, mindful that they can't take the eyes off anything, in every OKC corner lurks a reason (for why they have the ball now)." — Dec. 16.
Third in the West, 27-18.
BROOKLYN NETS
I want to attend my first Brooklyn Nets game so badly.
"One of those nights where Spencer Dinwiddie finally sits at the booth and immediately spots the missing button that you'd assumed nobody had seen so far, the one under the left collar, you tried to hide it with the way you hung your tie and the hunch that dragged your blazer into this whole fraudulent affair." — Nov. 17.
"The Nets are going to make a season of it. The team will find a way to manufacture wins out of all this wagon circlin', anything can happen in this league if you compete." — Dec. 6.
Sixth in the East, 24-23.
INDIANA PACERS
We talk about the Pacers a lot.
"The Pacers are a wickedly confident team, they'll settle into actions two and a half hours after tip and you'll wonder why the game stayed competitive for this, damn, long." — Nov. 10.
Third in the East, 31-15.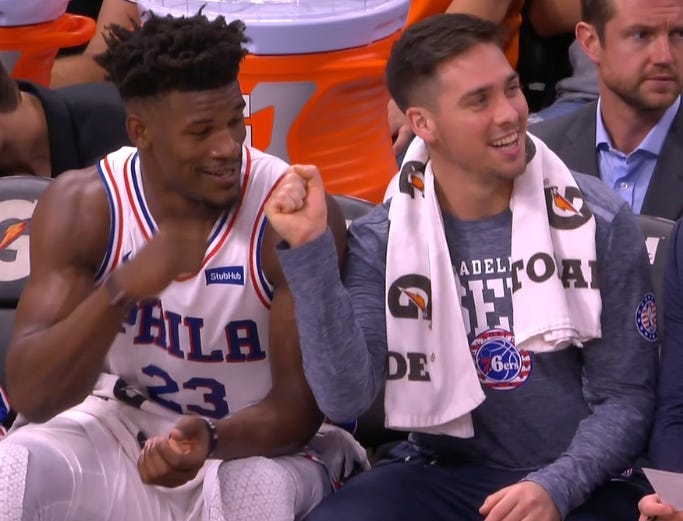 PHILADELPHIA 76ERS
This is so messed up.
"The Sixers are a trip north when all you wanted to see was the arrow pointing 'W,' this game never felt like it was pulling away and yet there the 76ers stood, all slippery and rain-soaked, slowly being told that Route 6 is far too desolate to hitchhike on.

"The Sixers wear themselves out, over the course of a contest, the team plays too many non-shooters at a time and it stops running plays. You can't take your eyes off any of it." — Nov. 2.
"Wilson Chandler cannot jump over a bean and rice burrito at this point." — Dec. 18.
"You wanted something different, out of this league, let it live a little." — Dec. 28.
Fourth in the East, 30-17.
GOLDEN STATE WARRIORS