GOOD MORNING PEOPLE!!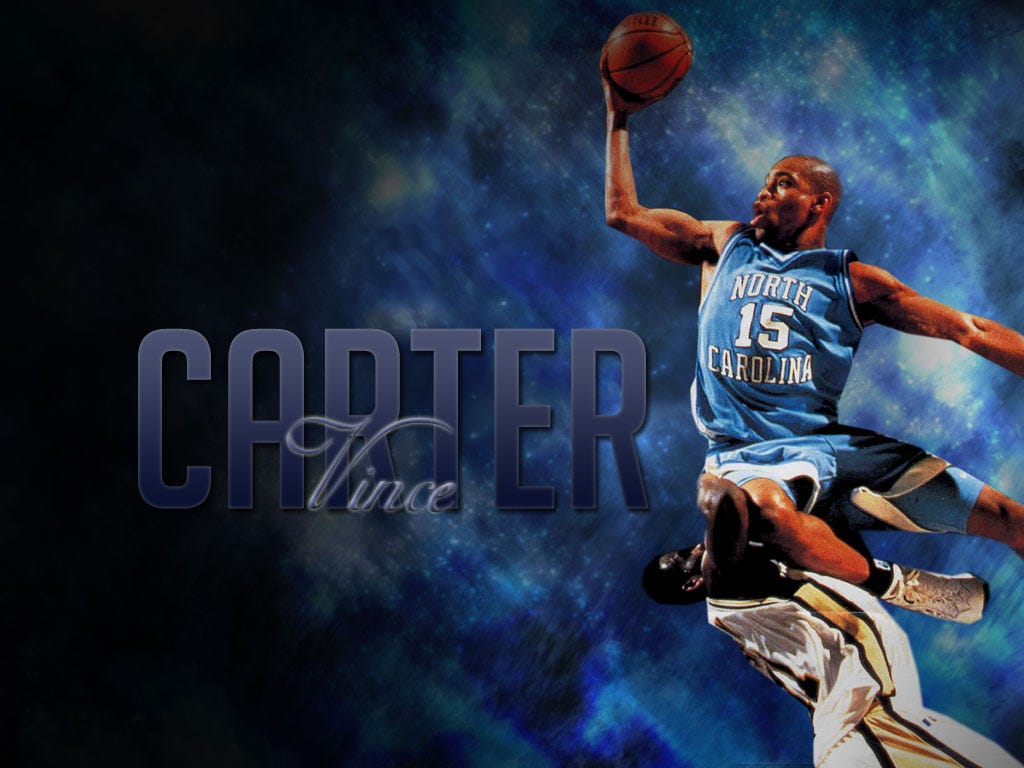 The Jazz never got to the Hawks defensively, Utah was never able to fully annoy them. Atlanta's developing wherewithal strung together wonderfully with its emerging talents, alongside the club's 42-year old Medicine Ball of a reserve swingman.
Vince Carter might want you to think that he's penultimate, but to me he's one of the all-time greats. VC popped two three-pointers and he was the only one on the court boxing out — six defensive rebounds, kinda needed.
Atlanta enjoyed its typical movement in delayed transition, five first quarter turnovers from the Jazz helped give the Hawks just as many (five) three-pointers in the the quarter. Utah wasn't going to bug these guys, ever again.
The second half briefly ripped the Hawks apart a bit because some angry visitors started playing basketball way harder. Jazz at its best is better than these here Hawks at ATL's current best, and if you play real hard you're gonna get real, real close to your best.
Donovan Mitchell was marvelous, bouncing toward 34 points on 15-32 shooting. Ricky Rubio enjoyed a wonderful evening, Ricky slinked an assist to Derrick Favors behind his back and hit two three-pointers without having to use the backboard.
Rubio beat up on the rookie, but the rookie beat up on the beard quite a bit down the stretch:
Trae Young needed 22 shots for his 23 points but his touch around Utah's hoop was encouraging, he's a special dude.
Hawks coach Lloyd Pierce spun some lovely ATOs, sent doubles at Mitchell at the right times late in the contest.
Jae Crowder watched as two three-pointers spun in and out in the final minutes, and Kyle Korver missed a free throw late in a contest that was marred by Zach Zarba's 42 replay reviews.
Hawks: 25-48, No. 12 in the East.
Jazz: 42-30, tied with OKC, SAS, LAC, SIB.
Pesky Kings in the third quarter, man, leapin' little roamers with long arms and swinging headbands and the whole trip. Cleaned the whole kitchen right up.
Buddy Hield popped seven three-pointers and 29 points for the Kings, forever slinking open amid Dallas' loafing group of either 6-8 Guys or 6-2 Guys.
Now, the Kings did leave Justin Jackson open for long stretches of the game because Justin Jackson used to play for the Kings. And though Justin Jackson managed 19 points on 9-16 shooting in his return to Sacramento, his team lost and Justin shot an airball in the fourth quarter, so.
Willie Cauley-Stein surely had his feets about him and De'Aaron Fox was similarly impactful defensively. Gotta remain impressed with Marvin Bagley III (22 and 12 and gotdamn four blocks off the bench) and the way he gets to loose balls.
SACTO closed really well and concentrated offensively in that second half, really wrung it out. A satisfying win after that blurt against the Nets.
Kings: 35-36, NINE.
Mavericks: 28-44. Kings threw Yogi Ferrell out there but Mavs still managed to lose.
The Pacers did what they could to dissuade anyone from ever wanting to visit Indiana, Nate McMillan's club kept the tempo slow and the action grabby in the first half, skunked stalks all over that 53-43 halftime score. The Warriors were up ten in spite of Steph Curry's 1-6 mark from the floor.
DeMarcus Cousins loped fancy and Shaun Livingston was fouled while shooting a set-shot yet the Warriors turned it over a ton, and your Pacers shot like the Pacers. Then they brought Lars Ulrich on camera.
Draymond Green and a bubbling Curry percolated in the decisive third quarter, pushing hard on Pacer misses. Stephen blinked twice and suddenly the Warriors were up 26.
Andre Iguodala got rim.
Doug McDermott dunked on fuckin' Bogut.
Warriors: 49-22, tops in the West.
Pacers: 44-29, half game up on the Celtics.
Washington gave the attendees a contest, it was the least they could do on Friday, the fancy Nuggets had flown in and D.C. has never been much of a college basketball town.
The visitors' D came and went but the interest was there. Denver's latest road performance didn't worry us any further, this is still a team that is going to play a seven-game series in the first-round but at least they had the haps on Friday. Far from hapless on the road, no letdown after the big win in Boston.
Your Nuggets also showcased exemplary ball movement, somehow maintaining its composure after the stingy Washington Wizards began to perk up a bit after halftime.
Torrey Craig was Denver's swinging star (three threes, 15 points and four assists, four Torrey Craig Fouls) on a night where Jamal Murray (eh) and Gary Harris (I mean) were only just enough.
Washington responded with Thomas Bryant, as it often does, engaging the starting center on either end as the 21-year old adeptly minded his footwork. Bryant cleared 22 points and eight rebounds on the second night of a back-to-back, had enough in the tank to nearly nail a game-tying three-pointer in the final seconds.
Two blocks and wonderful defense when Washington made its charge in the third quarter. Thomas Bryant played for the Lakers last year!
Washington clipped its own run by turning it over four times toward the end of the third. The team muffed break after break and gave up an offensive rebound on a missed Denver free throw with under 10 seconds to go in a three-point game. Wesley Johnson played.
Eight out of nine Nuggets scored double-figure points in the win, and the only holdout (Mason Plumlee, four shitty points) grabbed 11 rebounds.
Nuggets: 48-22, second in the East, half-game back.
Wizards: 30-43, No. 11 in the East.
Charlotte's ball movement destroyed the Timberwolves, spread 'em out. Minnesota doesn't boast enough 2019-sized players at the moment.
Nicolas Batum dunked on Minnesota, Malik Monk hit three three-pointers early and four all day, Marvin Williams canned four long-rangers of his own — that's your clue, pals. Willy Hernangomez came out of fucking nowhere to travel his way toward five field goals, Charlotte even let him play in both halves.
The Wolves answered with a tired Karl-Anthony Towns and Andrew Wiggins driving into his own team's traffic so that he wouldn't have to take any extra shots.
Gorgui Dieng tried those stupid long ploops of his and Tyus Jones is too short to guard Kemba "Ol' 31 Points" Walker.
In a perfect world, Engaged Two-Way Star Andrew Wiggins would switch over onto Walker, but this isn't a perfect world — I never got to play Laser Tag when I was a kid.
Not once.
Hornets: 32-39, No. 10 in the East, three games out of the bracket.
Timberwolves: 32-40 and growing slimmer by the hour.
The Suns have begun to fade, the leftover kids gave Detroit a run for a little bit but these legs have long gone.
Detroit couldn't hit for shit in the paint to begin the game but this was eventually remedied by playing the Suns, the Pistons remained in the contest by gobbling up heaps of open three-pointers. (Open because they were playing the Suns.)
Wayne Ellington pinched six three-pointers, Langston Galloway notched a pair and Luke Kennard nailed a couple alongside a technical foul. Blake Griffin shot 2-11 from long range because he's pretty sure he saw the same movie you guys did.
The Suns were a mess: Devin Booker didn't handle double-teams properly and had to hit a one-legged three. Josh Jackson still swings at high fastballs and had to leave the loss after an ankle injury. Mikal Bridges threw an alley-oop to DeAndre Ayton that hit the shot clock.
Ayton (20 and eight rebounds) didn't back down from Andre Drummond but it doesn't mean he was super great against him either, Drummond's 7-18 mark from the floor was mostly Dre's fault. Drummond missed a dunk but gathered 19 rebounds.
The Suns very much could have used our beloved Kelly Oubre Jr. (out for the year which sucks) to make hay out of broken plays.
Pistons: 37-34, No. 6 and a game up on Brooklyn.
Suns: 17-56 and nothing over on anybody.
LIVE WITH ME
I'm so happy you didn't watch any NBA basketball on Thursday. I do this again on Friday nites.
If you subscribe now you get the rest of the regular season plus the start of the playoffs, it's a good time to hop on if you've been putting it off. Support independent hoops!
(More to come).