Discover more from The Second Arrangement
Kelly Dwyer covers the NBA, alongside musical bits and comedy numbers.
Over 2,000 subscribers
When Kareem wanted out
"They always seem to make the wrong deal. It's getting to the point where there's almost no native-born New Yorker in the NBA. It's getting scarce out there. [Players] may just give up on the town."
— Kareem Abdul-Jabbar discussing the New York Knicks in 2019.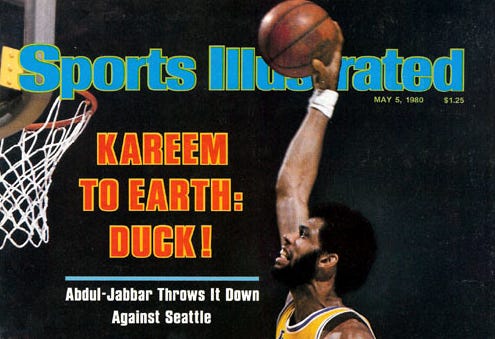 The Knicks tried. To the best of the Knicks' ability.
Kareem Abdul-Jabbar wanted to go to New York, or the Lakers. The Milwaukee Bucks center had tired of his professional commitment to the city, Kareem wanted to work out of a metropolis of his own choosing, Milwaukee had only "drafted" him.
Abdul-Jabbar led Larry Costello's Bucks to the 1971 title, Milwaukee lost its 1972 title defense to Wilt Chamberlain's Lakers. Milwaukee won 60 games in 1973 yet fell in the second round to the 47-win Warriors, the team's 1974 title bid made it all the way to a seventh Finals game and loss in Boston.
Oscar Robertson retired in the 1974 offseason, Costello's core around Abdul-Jabbar wasn't aging or terrible but it sure as hell wasn't enough to keep Kareem in Milwaukee. Privately, Abdul-Jabbar asked the Bucks for a trade just before 1974-75 began.
Kareem's second contract with the club was set to expire after 1975-76, the NBA recently implemented free agency compensation rules but teams were loathe to trust basketball balancing acts to new NBA commissioner Lawrence O'Brien.
A month before Abdul-Jabbar's trade request, the Lakers signed 30-year old Cazzie Russell to a free agent contract in 1974, the NBA awarded Russell's last team (Golden State) with Los Angeles' eventual top pick in the 1976 draft (Robert Parish).
"The compensation rules hadn't been tested," former Los Angeles Lakers attorney Alan Rothenberg explained in 1987.
"Milwaukee was afraid that [the NBA] wouldn't have the guts to give them any kind of an award if Kareem left and went somewhere else."
Settlements which allowed no bargaining input from player or team front office personnel were only going to scan worse and worse. The onus immediately fell upon players, representatives and teams to establish some form of precedent, executed irrespective of league office input. Trade your free agents, before they become free agents.
The trill became a tune, straightaway.
Trade your free agents, before they become free agents.
Kareem gave his trade demand to the Bucks in a 1974 preseason dinner meeting alongside Abdul-Jabbar's longtime representative, Sam Gilbert. Milwaukee president Bill Alverson and Bucks general manager Wayne Embry wanted to know if there was something stuck in their teeth.
"We asked Kareem if there was dissatisfaction with us and he said, 'no,'" Wayne Embry told the Los Angeles Times' Thomas Bonk in 1987.
"He just wanted to be traded from Milwaukee. He said his life style and the life style in Milwaukee were not compatible."
Clarity was key, allowing the Bucks to move forward without any illusions as to the team's role in this. Abdul-Jabbar recalled as much to Yahoo Sports' Vincent Goodwill in 2019.
"When I was leaving Milwaukee, I let them know before the season started and I kept my mouth shut. Just to give them an opportunity to make the best deal they could behind closed doors."
In March, however, WNBC sportscaster Marv Albert broadcast a report signaling smoke (and some fire): Kareem wanted to be in New York, and the two-time champion Knicks were on a road toward accommodating Abdul-Jabbar.
The Lakers were in Milwaukee on March 16th, Los Angeles beat the Bucks with Kareem totaling 29 points, 17 rebounds, and five blocks. Following the loss, Abdul-Jabbar acknowledged his trade request.
"I don't have any family or friends here.. The things I relate to don't happen to be in this city to any meaningful degree.

"Culturally, what I'm about and what Milwaukee is about are two different things. The reason I haven't commented on this before is I don't want to take a knock at Milwaukee or the people here and have them think they're unworthy of me. That's not what it's all about.

"I have no unkind feelings toward the people of Milwaukee or Wisconsin. I want to underline that. But my family and friends aren't here and culturally what I'm into does not exist here. My stay with management has been great, and the personnel on the team are great. I have no complaints on that."
Kareem attempted to give his employers every opportunity they could to sustain their franchise ahead of his free agent turn.
He'd done everything right ahead of making an understandable personal and professional decision, yet he still had to carefully outline a wholly unnecessary it's not you, it's me-effort in the face of the town he was soon to leave.
"Kareem hasn't been happy in Milwaukee," Bill Alverson pointed out, "because he has no social life here." 
The Buck president finally had to go on record.
"Here's no question he's the most valuable player in pro basketball today. But losing him would not be the end of the franchise.

"If you are asking me whether the Buck franchise could exist without him, it can. Again, theoretically, suppose we traded him and got a flock of all‐stars for him and we did a lot of winning, then the people would come to see us play."
The Bucks went 5-7 to end the season after Kareem's interests became known, par for the course in his final campaign with Milwaukee.
Abdul-Jabbar missed his first 16 games in 1974-75 with a broken hand, Kareem punched a basket stanchion in frustration after Don Nelson poked his eye in an exhibition game. Milwaukee dealt stalwart Lucius Allen to Los Angeles early in the season for point guard Jim Price, but not even Price's lone All-Star campaign could lift an underperforming Milwaukee group into the playoffs.
The 48-win Warriors led the West in 1975, Los Angeles finished last in the West with 30 wins, mediocre Milwaukee copped 38 wins in a season where Kareem Abdul-Jabbar played 65 games, averaging 30 points, 14 rebounds, 4.1 assists and 3.3 blocks per contest.
The Knicks were about to step in with an offer.
New York sent general manager Eddie Donovan and team president Mike Burke to Milwaukee.
The Knicks "tried to steal Kareem," Wayne Embry told Peter Vecsey in 2011.
"They thought they had the edge because he was from New York."
The Knicks offered 30-year old Walt Frazier, maybe Earl Monroe, and a substantial amount of money in exchange for Abdul-Jabbar.
Alverson was similarly turned off by New York's approach.
"They think we're country hicks," the Bucks prez relayed to Embry.
"Burke shows up in a $1,000 suit and tries to take us to the cleaners."
New York had its pick in the 1975 NBA draft but was about to lose its 1976 selection as penalty for signing ABA star George McGinnis to a free agent contract in 1974.
The Philadelphia 76ers owned McGinnis' NBA draft rights. The league didn't take kindly to New York's direct plea to an individual on the free market, and to the Knicks circumventing the reserve clause and the NBA's pipeline to assigning team holds to individual players working without a say in the matter.
Lawrence O'Brien, NBA commissioner, was aghast.
"There is no practice or rule more fundamental to the N.B.A.—and to all professional athletic leagues—than the player draft."
The league pulled New York's 1976 draft pick and fined the team Philadelphia's legal fees. The Knicks boasted only a paucity of draft picks and player assets but the team knew it was soon to receive a boon in whatever form of indemnity agreement the ABA's New York Nets would surely pay upon any future NBA/ABA merger.
New York's only hope was to heap money Milwaukee's way.
"Well, what is cash going to do for me?" Embry explained in 1987. "I sent Mike Burke and Eddie Donovan back to New York with their tails between the legs."
"They thought cash was appealing to everybody," Embry told Vecsey, "but cash can't play."
The Lakers had cash, too. And the Lakers had two draft picks.
And a guy Milwaukee really, really wanted.
The Lakers were game. They wanted to ship Gail Goodrich, the 32-year old five-time All-Star, to Milwaukee as the point of the package.
The Bucks didn't want to watch the Los Angeles-born Goodrich settle into retirement in Wisconsin. Wayne Embry instead focused on Rockaway-native Brian Winters, a 23-year old guard who pinned 11.7 points per game in only 22.3 minutes a contest as a rookie Laker in 1974-75.
The Lakers and Bucks reps met in Denver to discuss the deal. "Nobody wanted to be seen anywhere," Laker lawyer Alan Rothenberg told the Los Angeles Times in 1987.
Milwaukee wanted each of Los Angeles' first-round picks in the 1975 NBA draft. The No. 2 overall selection Los Angeles earned with its 52-loss season, and the No. 8 selection plucked from Cleveland in exchange for center/forward Jim Chones.
The Lakers agreed to draft UCLA's Dave Meyers and Louisville's Junior Bridgeman out of Louisville for the Bucks, even negotiating contracts with the pair until the rest of Abdul-Jabbar's trade could be straightened out.
The Bucks agreed to send reserve pivotman Walt Wesley to Los Angeles to continue to spell Kareem. Los Angeles agreed to send 26-year old center Elmore Smith, the league's leading shot blocker (at 4.9 a game, in the first season they kept the stat) in 1974, to Milwaukee.
Los Angeles again pushed to include Goodrich, yet Embry was not a fan and the Bucks left Denver without an agreement with the Lakers.
"Still no Winters, still no damn deal!" Embry was adamant.
The Lakers flew Rothenberg into Milwaukee to chase the Buck front office. Los Angeles was ready to let loose of Winters and the rest of the cash needed to make Kareem Abdul-Jabbar a Los Angeles Laker.
Embry told Peter Vecsey in 2011 that he was "ashamed to admit" the Bucks also collected cash in the deal. "Something like $250,000," Embry guessed.
Los Angeles Times research revealed the terms to be closer to $800,000, with the Bucks pulling the first quarter-million payment partway into 1974-75. Another $250,000 hit in 1977, with the Lakers peeling $100,000 from their billfolds in the next three seasons to count up to the rest.
The bounty kept the Milwaukee Bucks in business.
Winters immediately became an All-Star in Milwaukee, the Bucks eked back into the 1976 postseason with two rookies in the rotation and Winters offering 18.6 points per contest.
"Getting traded for Kareem," Winters beamed, "was a happening in my life."
Milwaukee wasn't a powerhouse, but neither was Los Angeles until a compensatory draft pick was sent to the Lakers in exchange for New Orleans' dumb decision to sign 33-year old Gail Goodrich to a three-year contract in 1976. The NBA shipped the Lakers three first-round selection from New Orleans as "compensation," one of which was used to select Earvin "Magic" Johnson out of the 1979 NBA draft.
By the time the Bucks won 60 games under Don Nelson in 1980-81, only Bridgeman and Winters (each performing in valued roles) remained, but so did NBA basketball in Milwaukee.
"It is not immodest to say we saved our franchise with our deal," Bill Alverson said in 1987.
"I don't think it's proven to be a bad deal for the Lakers, either. But it was not a good deal for Milwaukee, it was an absolutely sensational deal for Milwaukee."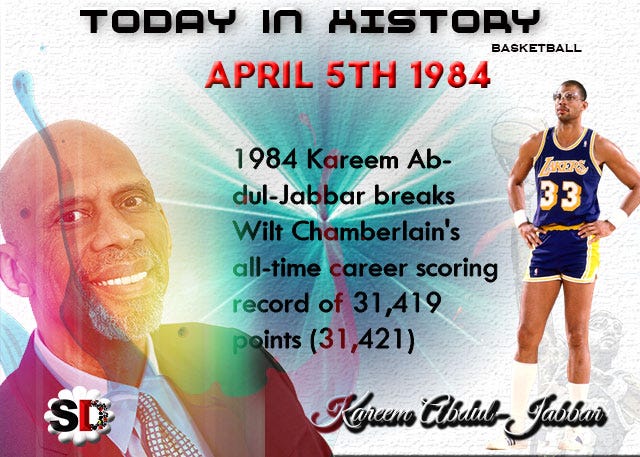 The Knicks were about to start the 1975-76 season with Neal Walk as its starting center, and Phil Jackson at reserve pivot. Walk was selected No. 2 in the 1969 NBA draft behind Kareem Abdul-Jabbar. Abdul-Jabbar was also scheduled to make his Laker debut in Madison Square Garden on the opening night of the 1975-76 season.
With its faces about to be rubbed into something, Knick brass flew to Los Angeles in a bid to talk Wilt Chamberlain out of retirement.
When Wilt failed to show up for repeated meetings with the Knicks, New York discovered a deal waiting with the Seattle SuperSonics, officially grabbing 26-year old power forward Spencer Haywood in a transaction with Seattle on the same day Kareem contributed 27 points, 20 rebounds, five assists and four blocks in his (winning) debut as a Laker.
In discussing news of the announcement, the New York Times pictured Haywood's stock photo just above an hours-old shot of Kareem dunking in Phil Jackson's face.
Haywood had three years plus an option season left on his contract. The Knicks sent Seattle $1.5 million plus the rights to 1975 No. 9 pick Gene Short, Seattle would also acquire New York's 1979 first-round pick if Short failed to remain in the NBA past his first few seasons.
Short was waived after a month with the SuperSonics, a top-ten pick out of the league after working only seven games. The Knicks picked him up in an attempt to extend the small forward's bid for an NBA career, but he was out of New York and the NBA after only 27 further contests.
Haywood scored well for New York (17 points in 31.9 minutes over 210 appearances) but the Knicks only made the postseason once in four seasons with Haywood at power forward.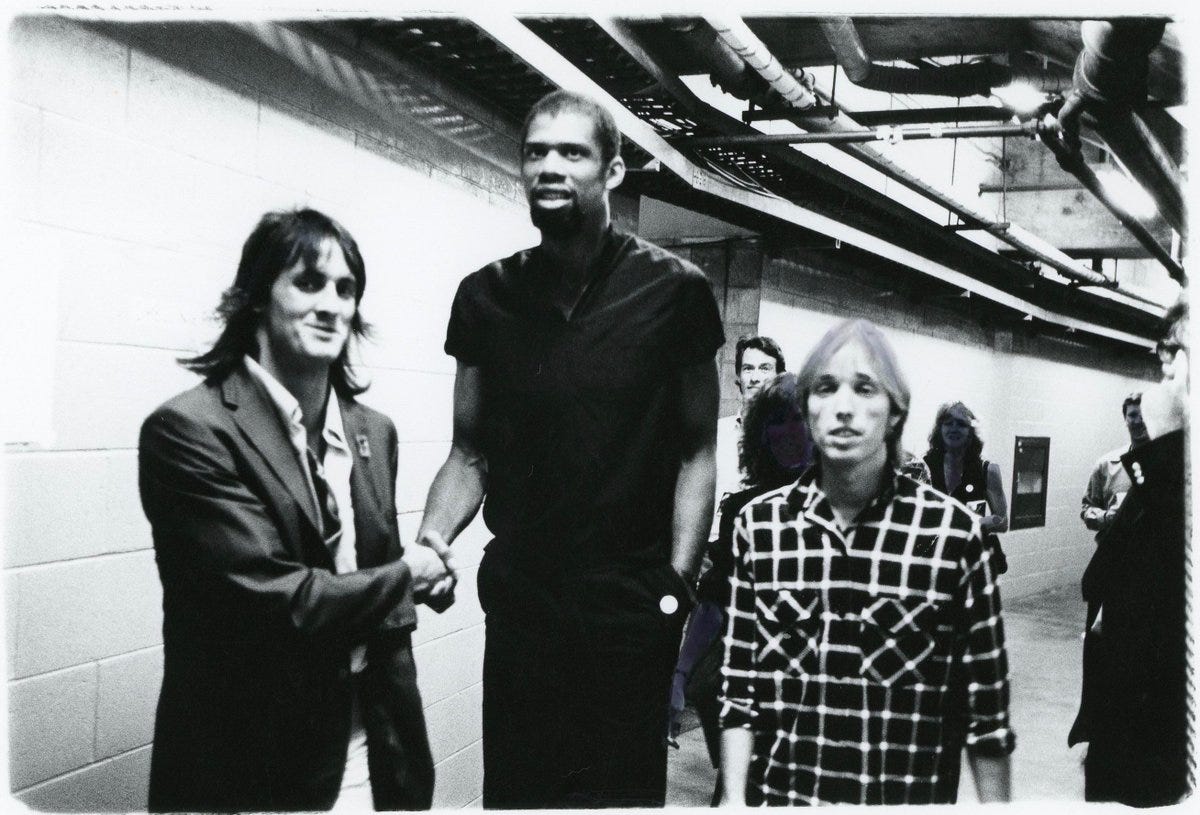 Kareem Abdul-Jabbar tried to force a trade to New York in 1981.
Before an offseason trip to the Philippines, Abdul-Jabbar instructed his representative Thomas Collins to schedule a meeting with Laker owner Jerry Buss, "and pursue a deal with the Nets or Knicks."
The Lakers lost a title defense in 1981, Magic Johnson missed a chunk of the season with a knee injury yet was rewarded with a 25-year, $25 million contract and a promised executive stake in the Laker organization.
Kareem kinda had some questions about that.
Based upon his last discussions with his client, "Collins told Buss that Abdul-Jabbar's first priority was not money but finishing his career in the New York area."
(The New York Times also reported that "Abdul-Jabbar was unreachable for comment last night at his home; he has an unpublished telephone number.")
No deal was explored. Abdul-Jabbar and Buss met later in the summer to hash things out, and Kareem came out of the summit with a new lease on Lakers.
"A basketball team is much like a family, and when one member has been singled out, often times other people in that family can become jealous.

"If you have jealousy, everyone cannot be working toward the same goal. I would also like to point out that salary was not even mentioned during the meeting.

"I have always had an intense desire to win, but the atmosphere here had not been conducive toward that goal.

"However, after meeting with my boss this afternoon, the rumors of my departure are premature and I look forward to ending my career with the Lakers.

"Had I thought it was impossible to win here, New York is my home and is the only other place I would want to play. However, my teammates and I are looking forward to the upcoming season and winning the world championship again."
The Lakers won another title in 1982.
YOUR OWN SWEET WAY
(Gem of a compact disc.)
I'm trying to keep a career as an NBA sportswriter, five bucks at a time.
Contribute to this ongoing effort and you get NBA freakout emails sent to your inbox, repeatedly. If you have a passion, this is your place.
Thank you for reading!
(More to come.)