(Never Too Much podcast: LeBron's travel, subscribe to these beautiful emails!)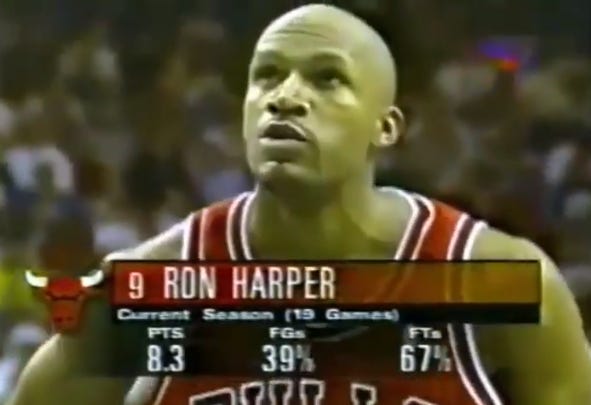 Ron Harper is my favorite basketball player, his style of selflessness is my ideal.
A 6-6 non-shooter coming off two knee surgeries is not the prototype for Michael Jordan's ideal triangle offense backcourt mate, yet Harper used his wits and clear and winsome love for the game to find daylight.
He's a mensch, Ron is.
These performers? Also mensches.
ALL-MENSCH TEAM
C: Dwight Howard, Los Angeles Lakers
Dwight hit a three-pointer on Wednesday, he's attempted a shot from outside the arc in consecutive games and the approach doesn't look natural.
The play develops, and because basketball is the way it is now, Dwight ends up outside the corner and open. He shoots it only because he has to, it looks like this:
(also, Dwight Howard canned a three-pointer as a Laker in 2012.)
The Lakers are 19-3 because the team takes care of bidness, Frank Vogel's crew knocks off the crummy teams and frustrates the good ones. Wednesday's win over Utah was never going to stun anyone — the Jazz are struggling and were playing at home for the first time in a dozen days — but that doesn't mitigate Los Angeles' message.
Howard sticks to his man as often as he can, Dwight has purple hair now (so you can tell it's him). Frank Vogel clipped Howard's defensive freelancing, this commitment carries over to the scoring end.
The guy takes fewer than seven shots per 36 minutes played, he's hit 75 percent of his field goals and Howard's rebounding is as stout as ever. The second-time Laker screens and slashes and gets out of the way offensively, saving his best efforts for the opposite end: Dwight's block rate represents a career high.
Fine styling for a man set to turn 34 on Sunday.
Dwight Howard has been part of seven NBA organizations in the last 40-odd months. Party-goers clap with their eyes when Dwight leaves a conversation huddle to "go make my rounds," this is not the dude you want added to a prominent group text. If Howard ever asks what you're doing after anything, make something up about your kids.
The Lakers put him in the rotation, trusted Howard's with a notoriously sensitive type in LeBron James, and counted on your Dwight to helm a top-three defense. He's been marvelous, from the top.
I still don't want him at Sean and Emily's housewarming on Saturday.
PF: Paul Millsap, Denver Nuggets
The 14-year vet turns 35 around the All-Star break, pundits were ready for Paul to crack, for the production to plummet and for the gray to take grips.
Pundits were probably right to, 34 is old and 35 is even older. Paul's still put 'em all to shame.
Millsap hits half his threes in 2019-20, there's some leg. His aggression (!) and versatility have gone a long way toward pushing Denver to the top of the NBA's defensive rankings.
And he's happy LeBron James already began carping about calling thirtysomething NBA players "washed."
"Honestly, I'm glad he came up with it," Millsap copped to Mike Singer at the Denver Post:
"It's something that's been on my heart for a while. Just not understanding the complexity of getting older.
"Thirty-four being old, I just never would've thought in a million years, why not in the NBA? Why not in basketball? As you get older, we have more opportunities, more things going on in our lives that we take it away from basketball and our bodies.

"If you continue to put the same energy into your body, into your craft, I think you'll be all right."
SF: Rondae Hollis-Jefferson, Toronto Raptors
The guy moved to Toronto and immediately earned the ire of his coach.
Rondae worked four (garbage time) minutes in the season's first 20 days, his first real game wasn't until Nov. 10.
Hollis-Jefferson responded to the burn by crashing harder than anyone'd ever imagined.
Your guy doubled his offensive rebound rate, all he does is cram glass now. RHJ picked up 39 offensive rebounds in 298 Raptor minutes so far, he lefty-lopes in put-backs and plays shit-hot defense.
The team loves him — offensive rebounds are just more beer for us — and Rondae recently announced plans to open a charter school in his hometown of Chester PA.
It's been a good Mensch Month.
SG: James Ennis III, Philadelphia 76ers
The rugged swingman was supposed'ta work for the Rockets and supposed'ta work for the Sixers last year, but nothing quite clicked until recently.
The 29-year old hits half his shots and over 42 percent of his threes and he rebounds like someone who's sick of being turned down at the company store.
Philadelphia coach Brett Brown can probably explain this better:
"He's having a hell of a year. I bring him off the bench because I want stability and I want more of a veteran presence coming off the bench as the game unfolds.
"He's a sneaky offensive rebounder. He's a physical defensive player, a prideful defensive player that has qualities that give you confidence when it's 98-98 and there's five minutes left. He should be on the court."
It is good that Brown has been able to identify a member of his best lineup, he only has four more slots to fill.
PG: gotdamn Spencer Dinwiddie, Brooklyn Nets
I'm not convinced I'd convert your last $482 into his currency.
Also I'm not even convinced he's even signed his last contract, likely in a bid to keep Spencer off the hook for some white collar crimes. Those 20.8 points of his sure as hell kept Brooklyn in the playoff bracket.
The 11-10 Nets are perfectly mediocre without Kyrie Irving and Kevin Durant. With Garrett seriously Temple in the starting lineup and Iman kidding me Shumpert in the rotation.
BKN's triumphed seven times and lost three contests (most recently in heartbreaking fashion to Miami) with Dinwiddie leading at point guard.
Joe Harris is really high on the dude:
"Right now, Spencer is our best player on the court. We live and die with him making plays down the stretch."
Kyrie Irving is better at basketball, though. He'll start for the Nets in a few weeks, when his shoulder doesn't leave him feeling sideways.
Zach Braziller at the NY Post was around when Dinwiddie explained he deals with this sort of crummy contingency:
"If you don't roll with it, you will be out the league," Dinwiddie said. "You don't have a choice. I could be out here trippin' and I'll be gone. If you roll with it, we figure it out and I get to stay and sometimes, every so often, I'll have like a big game."
"It would be nice to score 30 and stuff — who doesn't want to do that? — but the league kind of works in a certain way."
Don't try to change it. Save your subversion for the cryptocurrency pursuits.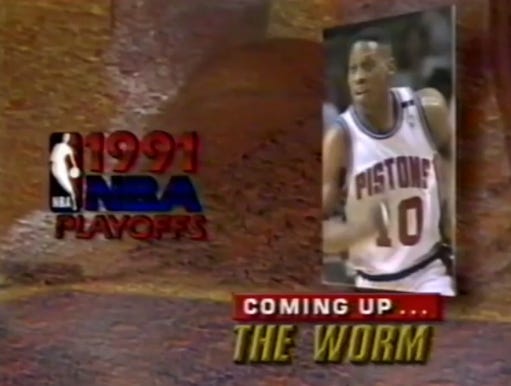 SIXTH MAN: Omari Spellman, Golden State Warriors
The GSW forward/center is 22, and like a lot of us he let his 21st year get way, way away from him.
The Atlanta Hawks looked like they plucked a steal when the club selected Spellman No. 30 in the 2018 NBA draft, yet his ballooning weight contributed to a disappointed rookie campaign. ATL dealt Spellman to GSW in the offseason for Damion Jones.
Omari went on record with Anthony Slater at the Athletic:
Bro, you give a 21-year-old who has never had that kind of money $60,000 a month — like, after taxes — it's like, bro, he's going to fuck that up. There's no he might fuck that up. No. He's going to fuck that up at some point.
Certain people, you just don't see it. Their fuck-ups aren't appearance quantified. It could be several things they're doing that you don't know. But you could see I'm fucking up. I'm fat. It's different for other people.
Spellman doesn't blame the Hawks, crediting the medical and coaching staff for outlining him with options to succeed.
Atlanta goes hard, though, Spellman (11.1 rebounds per 36 minutes with the Warriors) now insists he's "blessed to have been traded."
Strong self-awareness from the young professional. This league is full of them and I enjoy this.
HONORABLE MENSCHION
Delon Wright, the aforementioned Garrett Temple, probably Chris Paul, Moe Harkless, Evan Fournier, you for not violently reacting to the title above this list.
MY FAVORITE PARTS OF THIS OLD CLIP
Longtime Washington executive Bob Ferry, ex-Laker coach Pat Riley, and New York Post columnist Peter Vecsey chat with Baseball Boy Bob about the upcoming 1991 NBA draft.
1. Pat Riley knows a red hat when he sees one, talks up Greg Anthony.
Riley was named New York Knick coach six days after this segment aired, the Knicks used their No. 12 pick on Anthony when Greg fell out of the lottery.
Pat started Greg Anthony 74 times in four seasons before leaving him unprotected in the 1995 expansion draft in favor of Charlie Ward and Monty Williams.
As a result, in-prime Greg Anthony was expansion-drafted to play on a team in Vancouver that won 15 games, and now even his Basketball-Reference page uses a Vancouver uniform.
Big fan of Greg Anthony, Riley was.
2. Bob Ferry immediately encourages the Charlotte Hornets to select Billy Owens first overall, pointing to the team's hole at small forward while mentioning lacking incumbent "just-not" Johnny Newman by name. On NBC.
(A decade after this broadcast, Johnny New averaged 10.9 points per game for the New Jersey Nets.
Around the same time the NBA pulled the plug on Billy Owens' disappointing career. I'm not on NBC, I can say mean things.)
After telling the Hornets to grab Owens, Ferry then asks Charlotte to choose Larry Johnson with the same selection. I don't, either.
3. Bob Costas knows a :24 second buzzer is about to blare, yet still makes a buzzer sound with his mouth. Into a tiny microphone, on TV.
4. Kings executive Jerry Reynolds told Peter Vecsey that "even the Kings can't screw up this draft," because yeah we were also making routine Sacramento Kings jokes 28 years ago.
Reynolds nailed it, sending the No. 3 selection (Billy Owens) to Golden State for 26-year old shooting guard Mitch Richmond.
He screwed up all the other drafts.
5. Costas spotted Riley's lame joke and burst through an opening, asking Riley if he's "talked with Dave Checketts."
Checketts was Knick president at the time, the last guy who was (kinda) good at being a Knick, players included.
Vecsey then asks Riley if he's "talked with David Khan," the then-rival sportswriter and future Timberwolves flop.
Pete makes things uncomfortable, we need that.
Riley also pronounces it "Dikembe Mu-tooooom-bo."
6. Vecsey reports that draft prospect Brian Williams — Bison Dele — is vacationing in the "South of France" and then he makes a Left Bank joke.
6.5. Luc Longley's beautiful, looming, outline: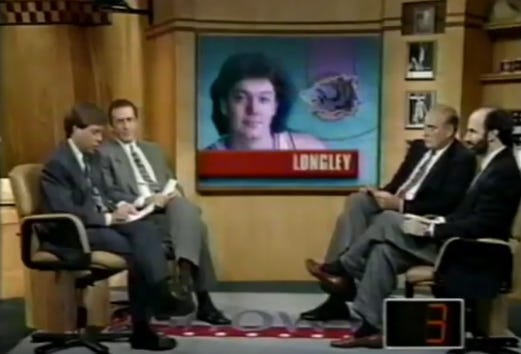 7. Crack of the Bat Costas selects Stanley Roberts for the Orlando Magic, noting that aging center Greg Kite started for the expansion club the season prior.
Riley charges with a smile that Costas hadn't "even seen Roberts play" and Costas uses this as another chance to dig in on Riley's impending Knickdom. It's a lot of uneasy fun.
The lottery then ended, as all NBA lotteries should, with the selection of Mark Macon.
LOOK AT THIS GUY WAIL ON THE FLUTE
Saxophone Guy David Sanborn used to host a show called 'Night Music,' Lorne Michaels syndicated it and the show specialized in highlighting some of the day's more tasteful yuppie acts, alongside a retinue of established artists.
Donald Fagen once performed on the show, uncomfortably.
In this clip, Sonic Youth performs the Stooges classic "I Wanna Be Your Dog" alongside the house band and it's pretty good.
There's a keytar back there, Kim Gordon is in a KISS shirt, Hiram Bullock plays guitar like a dork but then HOLY COW FLUTE GUY GOING NUTS FLUTE GUY IN A BLACK LEATHER DUSTER ROCKIN OUT.
Subscribe now, and you can read last night's Behind the Boxscore. Five bucks a month to get stuff like this all the time!
On Sunday we're running a column that looks a lot like this one, Monday we'll cover the Clippers' trip to Indianapolis, Boston's in town after that, another BtB pops up on Tuesday night, there's a lot to goof around with.
This is a wholly independent operation, it's just me, so help the guy with gas money;
thank you for reading!
To listen to the Never Too Much podcast, click on 'Listen in podcast app' at the top of this post to subscribe via your favorite podcast app. Stay subscribed for the next free episode, whenever it rolls around.
(More to come.)