If you haven't made it all the way through, we get it — these huddles are hard to watch.
Lovers of French cinema probably dig it, same as the sort of married folks that like to sit in hotel bars watching itinerant singles unsuccessfully trying to hook up.
This view is awkward:
That's LeBron James and his cushion, sitting through a huddle silently in the moments between the end of Game 1's regulation and overtime, eventually erupting at the same second Cleveland head coach Tyronn Lue revealed to James what LeBron probably knew all along.
Your Cavs had a timeout in the final possession of regulation. J.R. really screwed up.
James couldn't point to a scoreboard to further finish the sitting Smith, the scorekeepers wipe away the old list of available timeouts between quarters and nobody knows this better than LeBron, he just needed the final confirmation to really lock in on whatever fins were still flopping in the barrel.
The video is excruciating, it shows a basketball team losing a ballgame on the bench. The Warriors had every right to outscore the Cavaliers 17-7 in Game 1's overtime win, Golden State is that much better, the Warriors routinely beat Cleveland even when LeBron James reserves himself a chance.
Game 1's huddle left no chance. Not for that game.
LeBron used whatever remaining credibility his group had left on an outburst, a condemnation of something that the Cavaliers had an opportunity to be already past.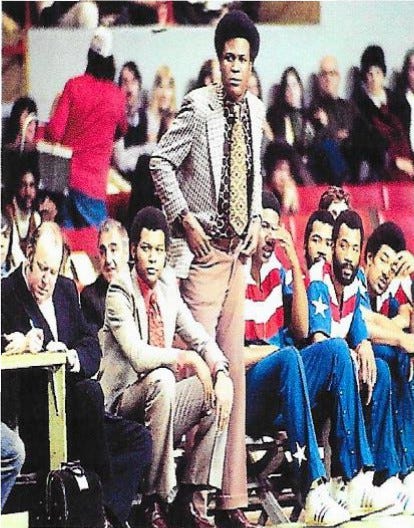 The problem with playing Password is that the game assumes that whoever spoke first had an answer in the first place. Why any kid would stay inside whispering things into another kid's ear while there are goals and balls and sticks to play outside with, that's a complication for another summer.
Washington won 60 games in 1974-75 because it should have, the Wes Unseld and Elvin Hayes-led team beat Boston in the East finals that year because it was supposed to, the Bullets lost the first two games of the 1975 Finals because the Golden State Warriors were good, Washington lost the last two games of that championship series because shit got away from everyone.
The whisper builds into a scream through three parts.
Washington head coach K.C. Jones, in a televised huddle late in either Game 2 or Game 3 of the 1975 championship round, allowed firebrand assistant coach Bernie Bickerstaff (pictured above, seated to the standing Jones' right) to lead the discussion and call the final play during a crucial timeout. One or more Bullets may have offered a brutally dismissive assessment of the coaching staff's efforts as the huddle cleared.
Jones' team, apparently garbling at the thought of being led into action without a Lombardi pushing for something off tackle, lost the contest during the remaining seconds as CBS and the rest of the clubbers at the 1975 Danny Thomas Memphis Classic cackled on.
K.C.'s team abandoned its title hopes and later its last nerve, Washington decided to let Jones go as coach a year later due mostly to the lasting image of Jones' ineffectual faffing through whatever timeout cost Washington its championship. Bickerstaff, a fount of knowledge despite no professional playing background, stayed on as a Bullet assistant until he became Seattle SuperSonics head coach in 1985.
In 1983, the Washington Post worked up the most general of recaps:
During a timeout, the television cameras went into the Bullets huddle and focused on Jones, kneeling in front of his team, not saying a thing, as Bickerstaff frantically diagrammed a play. The scene left the impression on many viewers and team owner Abe Pollin that Jones was not in charge. Although no one will say so, Jones believes it probably cost him his job.
"That one incident has followed me everywhere. That's all people seem to remember about me, but I guess that's the business.
Washington owner Abe Pollin fired Jones in 1976 after the Bullets, in Wes Unseld's estimation, "just didn't play up to our potential."
"Abe," who would go on to hire Unseld for Washington's vice president, head coaching and general manager's positions, "couldn't fire all of us."
Jones won 63 percent of his games through three seasons in Washington and yet needed eight years to latch onto his next head coaching gig, in Boston, before 1983-84.
By that time, this thing had a name.
"The incident created attitudes around the league, though, and if there was one thing I learned from it is to never let a camera or a mike in my huddle," Jones told the Washington Post in 1983.
"It's known around the league as the K.C. Jones Syndrome."
A FEW EXAMPLES OF THE SYNDROME'S COVERAGE
"Jones and his then-assistant Bernie Bickerstaff discussed the play. Jones called a C play, a simple play run off a pick and roll, a play they had run hundreds of times during the season. Bickerstaff asked if he should diagram the play, and Jones, thinking it might help the players focus, said, 'Sure, go ahead.'
"The next thing viewers saw on national television was Bickerstaff furiously diagramming a play in a critical timeout with K.C. Jones standing by silently and impassively. Television announcers questioned why an assistant would be diagramming a play and why it was necessary to diagram one at all in this circumstance." — Bart Wright, McClatchy News Service, 1990.
" […] especially after the famous 1974-75 final series when he was coaching the Bullets against Golden State. The TV camera peered into the huddle, and there was Jones looking blank while assistant Bernie Bickerstaff drew the plays." — Sam Smith, Chicago Tribune, 1986.
"And sometimes nothing is said, which years ago cost K.C. Jones his job with the Washington Bullets. With a television microphone in his huddle during a playoff game, Jones said nothing at all, leaving it to his assistants to do the coaching. Jones wasn't doing any coaching pretty soon, and job security is a big deal." — Sam Smith, Chicago Tribune, 2000.
"In Game 2 of the finals against Golden State, the Bullets were huddled during a timeout when the camera picked up assistant coach Bernie Bickerstaff diagramming a play while Jones stood by silently. The picture suggested that Bickerstaff was doing the coaching. It was an erroneous suggestion, but it hardly mattered. The Bullets were swept by Golden State, and the next season, Jones was swept out of his job." — Jere Longman, Knight-Ridder, 1986.
"Jones took heat because CBS' inside-the-huddle cameras kept catching him crouching submissively during timeouts as assistant Bernie Bickerstaff furiously scribbled plays and seemed to be coaching the team." — Bill Simmons, Book of Basketball, 2010.
"With one second left in the close-out game, eavesdropping network microphones captured rattled Bullets coach K.C. Jones asking his players during the last timeout, 'Whadda we got? Whadda we got?'
'We got one second left in our season,' a player said." — Bill Livingston, Cleveland Plain-Dealer, 2015.
"Hardly anyone can forget the Bullets' coach, K.C. Jones, momentarily mute while Assistant Bernie Bickerstaff furiously scribbled patterns and diagrammed plays as one time-out drew to a close.
"When the Bullets broke from the huddle, the coaches screamed, 'O.K. O.K. What we got? What we got?' and Mike Riordan, dripping with sarcasm, said, 'We got 24 seconds to shoot.'" — Curry Kirkpatrick, Sports Illustrated, 1975.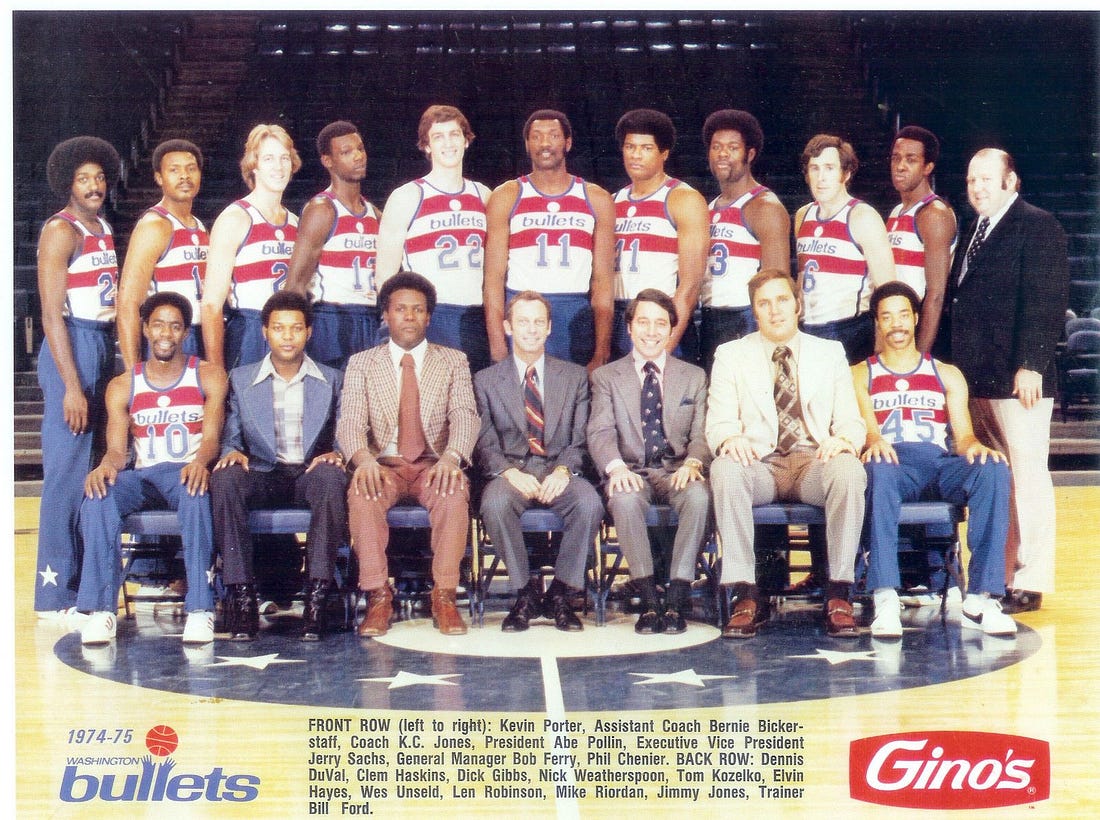 Even the best of the NBA's recollections appear to be off a number.
The Washington Post's David DuPree placed the huddle at the end of Game 3 in his 1983 playback, others put the blame on Game 2. Some scribes declined to even give the anecdote a specific brush, preferring to let the blast do most of the damage.
What is available, from the 1975 championship round, was a CBS broadcast that appeared insistent on documenting each and every bit of reaction from either sideline, and for good reason — the series was the first in America's pro sports history to feature two African-American head coaches working the lead: Washington's Jones on one side, Golden State's Al Attles manning the other.
Though the milestone is only rarely brought up in the broadcast, CBS director Sandy Grossman did well to split the screens, his production was replete with shots of both sidelines' squirming reactions.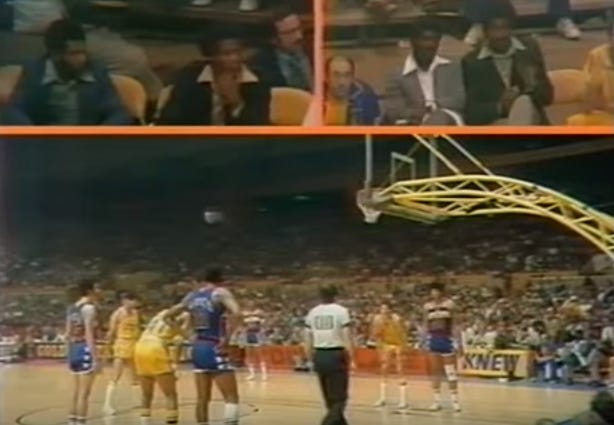 The series barely owned a home.
The 48-win Warriors were rarely a Memorial Day attraction, and in 1975 the Oakland Arena was scheduled to host the Ice Follies (feat. Janet Lynn) for ten days starting on May 16, occupying the calendar chunk expected by the NBA for productions Games 3 and 4 of its championship.
Oakland-Alameda County Complex Coliseum general manager Bill Cunningham didn't think twice in telling the NBA what it could do with its final round.
"The Ice Follies have appeared here every year since 1967," Cunningham told the Oakland Tribune at the time, "that's 60,000 to 70,000 people coming to the Oakland Arena for one week."
The man had no choice.
"After all these years, I can't tell the Ice Follies I don't want them here."
Few have the mettle for that sort of confrontation, so the favored, 60-win Bullets were handed a pair of scheduling options from the NBA.
Washington could begin its series in Golden State at the Cow Palace for Game 1, prior to three contests at the Bullets' home arena in the Maryland suburb of Landover. Or, the Bullets could begin the final round in whites for a single game before flying out West for a 1-2-2-1-1 dash through the format. Either setup guaranteed Game 7 for Landover.
Washington chose to start at home, with the next two at Golden State. "Three straight at home sounded good," K.C. Jones told Sports Illustrated after the series, "but I didn't want them to win that first game."
The Bullets burped away whatever home court advantage this mess had left, Rick Barry's Warriors overcame an early double-digit deficit to surprise the Bullets in Game 1 with a 101-95 win.
Fewer than 48 hours (and 2900 miles) later, Game 2 tipped off at the Cow Palace to Washington's best answer.
The Bullets led in the first quarter again before GSW pulled back to make a game of it, and somewhere close to the end CBS' cameras dug in to make a syndrome out of the whole thing.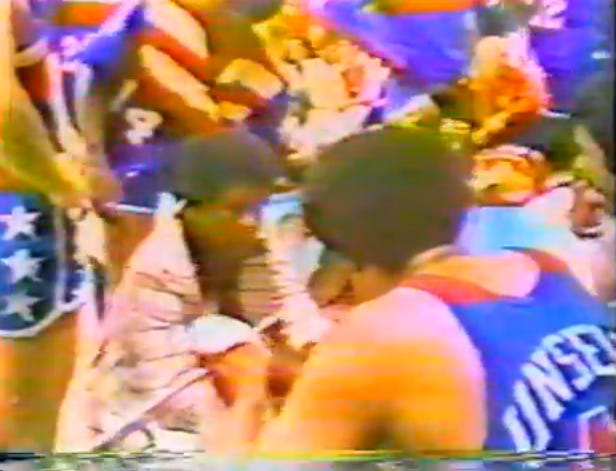 The clip, if this is what the clip is, looks about as damning as a reminder to floss.
With 23 seconds left in Game 2 and the Bullets down one, assistant Bernie Bickerstaff was ready with the obvious answer — "let's go to Wes, on a 1C Backdoor — call out '1C!'"
Jones harmonized with his 31-year old assistant's suggestion before clouding briefly on Bickerstaff's agreeable assertion that Mike Riordan could simply "go down the hole" should the Warriors overplay the setup.
Both coaches spent the bulk of the huddle confirming each other's notions, the younger Bickerstaff firing off four words for each of K.C.'s, Riordan even appeared to be the first to meet the floor after the huddle had ended.
The Bullets didn't score on the inbound play, Golden State overplayed Unseld and Riordan's jumper spun partway in before leaking out of what Barry called the Cow Palace's "forgiving" rims.
The Bullets lost Game 2, the whole huddle can be seen below.
(if the embed trick doesn't click, move ahead to the 57:34-mark.)
That's it?
It's hard to hear a "whadda we got," rather tough to conclude that Washington's head coach appeared "blank," let alone that K.C. Jones had acted "submissively" while working "silently and impassively" — the end of the huddle was his, the head coach confirmed actions with Unseld before dispensing advice to Phil Chenier.
The microphone did well to lap up most of the chatter, including Bickerstaff's loud notion to mind the "23 seconds on the clock," yet nothing caught Mike Riordan spitting anything out about "24 seconds to shoot."
Not in this clip, at least, so what about Game 3?
That contest's broadcast began by replaying the same coaching duck-ins that ended Game 2: Al Attles pleading with his Warriors to let the Bullets try to beat them from the outside, Bickerstaff and then Jones digging in on a "regular 1C"-set that performed well for them in the 60-win regular season, the Bullets losing Game 2 during the 23 ticks that followed.
Shots of Bernie Bickerstaff as Washington's co-anchor didn't dot repeated "timeouts." CBS' announcing duo of Brent Musburger and Oscar Robertson never tried to paint the assistant as an eager usurper, nor his friend and boss Jones as a weightless pair of Rayon lapels.
The crew referred to Washington's "C" set several times in live action before Game 2's final timeout, Musburger and Robertson commented specifically on the goings-on in either side's huddle repeatedly, never once questioning the leadership involved.
Golden State took Game 3 handily on a Friday night at the Cow Palace in California, no huddles to note, the NBA scheduled Game 4 for Sunday afternoon all the way back in Landover.
Maybe it was the travel that botched all the recall. Washington did have a timeout huddle with a second left in its season at the end of Game 4's loss, one final time to talk before Golden State swept the series.
The prevailing clip makes it tough to squeeze any instance of a Bullet acting the smartass in the face of an alarming clock, it's still kinda hard to pull a "we got one second left in our season" anecdote out of what's left of those rabbit-ears.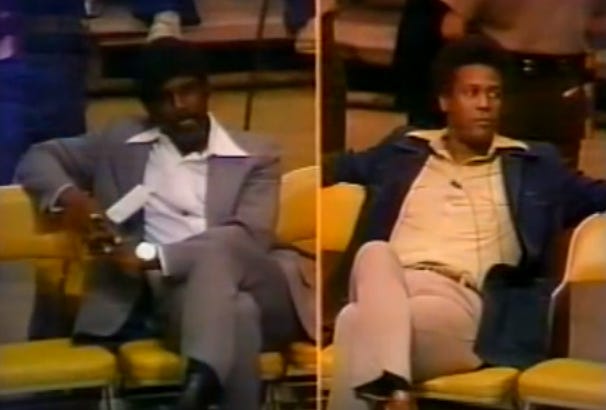 So where does that leave our huddle?
Stuffed off to the side of the things we got wrong, somewhere off getting into trouble with the Berenstein Bear kids, quoting all the genie burns from Shazaam (feat. Sinbad) incorrectly. Maybe this is a composite collection, maybe none of us have scrubbed well enough.
It takes a lot to trip a memory, the spark is never gonna be innocuous, parsing credit out of all this paternalism can be a stretch — still note that each of the blurred recollections detailing the interaction featured unending and effusive esteem for K.C. Jones' coaching approach.
Every bit had a qualifier, though, right down to the praise from his players.
"When it comes to Xs and Os, on a scale of 1 to 10, K.C. would be a 4," similarly-styled future coach Kevin McHale told reporters after Jones' first season leading the Celtics, after 1983-84's championship run.
"When it comes to him as a person, he's a 10-plus."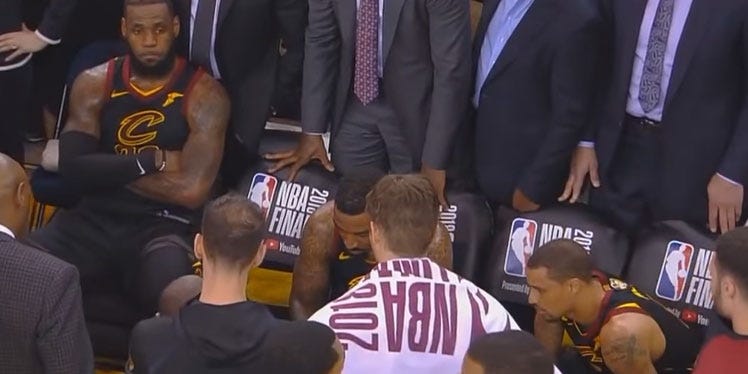 There's a very real chance that LeBron James — a man spied sniping at Cavaliers measured both short and tall throughout his very long season — could make Game 1's snidely ending a distant memory, and soon.
Something dusty and without direct meaning, LeBron hopes, by the time his series extends to a fifth or sixth or seventh game.
It's his recollection to create. Observers can't be trusted with these things, apparently.