Derrick Rose doesn't want to be here
Rose tries an Irish Goodbye while Tim Cato goes deep into Mavericks history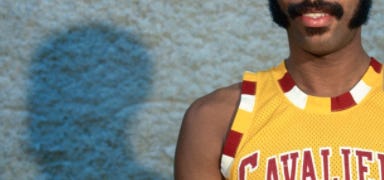 Derrick Rose is considering stepping away from the Cavaliers and the game in general, ESPN reported recently. His left ankle is probably going to drag at him all year, and his career didn't even have the good timing to land on an incident without an awkward telling.
For the rest of the season reports will remind us that Derrick's season came to a halt after a flagrant foul from then-Milwaukee Buck big man Greg Monroe. Hell, Monroe might even be traded again this year. This literal, calendar, year.
The severely sprained left ankle, the lifting point for a player whose drive right was once as unguardable as anything the position ever offered, tucks in with a torn meniscus tick in either knee, alongside the 2012 ACL tear that ended it all.
Further ESPN reports suggest Rose could have to part with the $80 million left on his shoe deal, should he decide to walk away, a figure that far outsizes the $2.1 veteran's minimum he's about a quarter of the way through this year. Every penny, voices have insisted for years, counts.
Every part of this is awful. Rose has little positive impact on pro basketball games, his worst instincts and habits from his MVP days are laid bare without the promise of an MVP make-up quarter, and he's a bad fit on a Cavs team that doesn't need another guy to slowly do it himself. The obvious solution would be for the Cavs and Rose to come to 2017-18 terms that keep his endorsers happy, nothing on paper to stick to, but then what?
Are we subjected to a series of make-good efforts in the summer from Rose and his camp? Seeking out offers that Derrick doesn't really want, one-year deals that would probably be available (there are a lot of NBA teams), just to satisfy a shoe contract? Because so many things are behind that $2.1 million?
The idea that Derrick Rose didn't love basketball as much as most was in place before the MVP hit. The way he would decline certain passes and the way he shot free throws ten different ways ten different times up always seemed to suggest that the five-on-five was it. It's something that makes sense if you grow up where Derrick Rose grew up. You don't travel alone.
His was a building you had to get out of. Walk the length of hallway where Derrick Rose once stretched, silently and in snapping Chicago darkness, and the move to cheat on a test comes quickly and assuredly.
Derrick Rose should have been docked SAT points for every question he didn't cheat on. He should have submitted an autographed picture with the blue book and left IOUs stuck underside every desk.
He may have. When you grow up in that building, you do whatever the hell you have to do to get out.
Chicago is used to its big men not working with the same drive, depending on where you rank Mark Aguirre's height. He was 6-6 but would have led the NBA in paint points even at 5-11 and a noticeable and growing bump above his right eyebrow.
More frightening were the cases of Leon Smith and Eddy Curry, working through whatever they were working through toward NBA careers that were far too brief and far less impactful than their promise suggested.
Rose heard of both players in Chicago high school classes much closer to his than that of Ben Wilson, the fallen Chicago prep legend that the sportswriters in us wanted Rose (born four years after Benji's death) to honor with his first NBA number. Rose instead chose the round in which Smith and Curry were drafted.
Preps-to-pros selections, Smith was in the back of a cop car and into a psychiatric ward before he ever played an NBA game, he'd go on to play 15 and most don't even know that, while Curry was in the New York Post for being broke and at the very least weird midway through Derrick's rookie year.
Point guards are the dogged ones. They dribble to buses and then take buses to trains and then trains to the good school and they go on to run teams as players and, seemingly just as often, coaches and executives.
Plenty of eventual centers are dragged into the game because mom's brothers were all really tall.
It certainly wasn't a thirst to head to the front of the rim, away from the ball and all your friends, that pushes most burgeoning bigs into battle, and it sure as hell wasn't the sight of a tall on TV that sent the kids into action down low. Most NBA centers are portrayed on air in their natural state – forever at odds with the referees, the speed of the game, and the demands of a coach that typically walks eye to eye with point guards.
A big's best shot doesn't look half as pretty as a point guard's typical offering, and no talented and big kid under the age of 18 has ever been credited by his or her jealous peers for acting the former, they only score that much because they're big.
We'll let the big men get away with some things. With jazz, with gymnastics, and we'll even come around to recognize that some of their early hip-hop offerings were remarkably good even considering the potency of the era they were recorded in. They stick out at the bowling alley, though, and we'll give them shit for it commensurate with their size.
Because they're supposed to play basketball, whereas point guards wanted to play basketball.
Those waterbugs (way bigger than you) have to make it in the land of the giants (average NBA height: an inch and a half taller than Conan) due to their guile (rules designed to make the game easiest for them), grit (the sort of basketball muscle memory that comes from adults allowing you to dominate the ball repeatedly from the earliest age), and leadership qualities (lol pick any ABC game).
When all you have is your legs, though?
Like Pete Maravich couldn't have played longer? The Celtics of the 1980s made allowances for every near-retirement pair of fingertips in the league, they could have let his dangle from his sides for years, but he split after 26 games. You try dragging that brace up and down.
The tidy story relays that an Achilles tear knocked Isiah Thomas out of the NBA early, at age 32, late in 1993-94. Thomas was set to retire before the tear, though, sick of the league he entered at age 20, done with grind he imagined for himself every morning as he rolled onto that train toward that bright red and unfamiliar high school, forced into life as a basketball mercenary at half of what turned into his retirement age.
Kevin Johnson signed his last multi-year contract with the intention of never playing past it, retiring at age 31. He was only dragged back into the league for a month in 2000 after Sun-for-Life Jason Kidd was lost for the playoffs with a knee injury. In his final walk off the court, following a playoff loss to Los Angeles, an overeager young Laker fan, kind of a dick if memory serves, nearly knocked Johnson off his feet while storming the Forum's court.
Clyde Frazier spent three seasons in Cleveland. That wasn't just one summer as a Met, he had to work three full years in wine and gold, but only managed 66 games due to injury.
Clyde Drexler averaged 18.4 points, 5.5 rebounds and 4.9 assists in 71 games for a 1997-98 Houston Rockets team that averaged just under 14 possessions per game. The next offseason he didn't even wait to turn down a million from a Rockets team that never even practiced before moving on to coach an NCAA team. Name it.
That's not to say every point guard with a bad knee is dying to get away – Kenny Smith played for four NBA teams in the month it took for Don Ohlmeyer and Lorne Michaels to structure Norm MacDonald's shitcanning in 1997-98 – but Derrick Rose isn't alone in being done with this crap.
He should leave, and I'd rather not think about whatever the hell it would be that brings him back.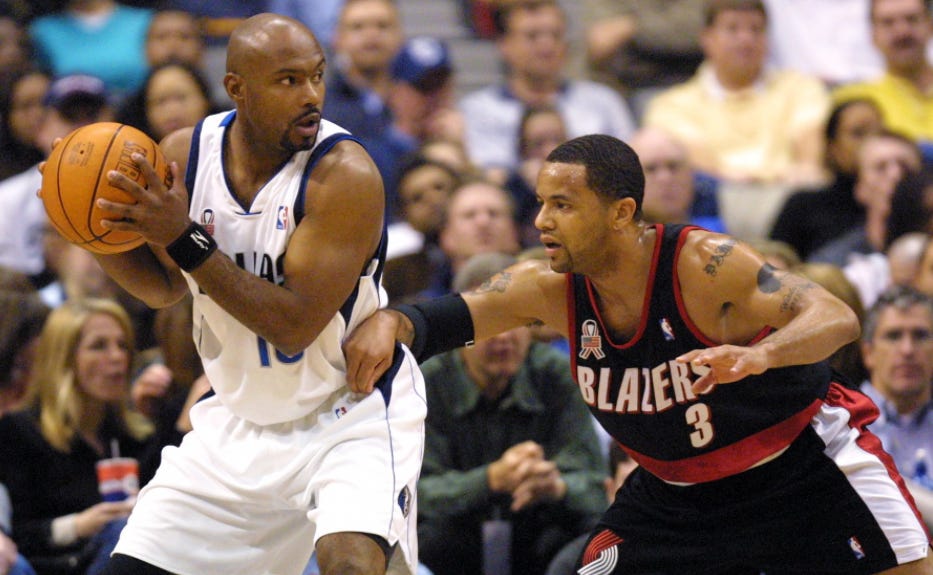 Tim Cato is a wonderful writer and he has a book, which I'm assured is similarly breezy and chewy and rich with detail. Mindful of his status, I asked the SB Nation NBA reporter and author of 100 Things Mavs Fans Should Know and Do Before They Die to discuss and rank a few of the lower moments in the crisp history of the Dallas Mavericks.
KD: Mavs fans won't ever shut the hell up about the Phil Jackson Game, at least the only one from the Bulls era, the one where he pulled out the nail clippers right before Cedric Ceballos finally discovered that corner threes were easy and the Mavs won. I haven't seen the game since it aired. It's my shitty Twin Peaks.
Can you please tell me what the hell the Bulls saw in this eight-point, six-rebound triumph that made them want to sign Chris Anstey the next year? Whatever charmed them was probably the same thing that I saw that led me to conclude that it was a fair signing, but that was also the summer that I met G. Love so who knows.
Rank Chris Anstey.
TIM: I did not watch that game, nor did I watch any Mavericks game that season, and you have successfully made me regret missing a 20-win season. Thanks for that, Kelly. But still, at my Barnes & Noble book signings, they put "Mavericks expert" next to my name which made me feel incredibly pretentious but also perfectly capable of answering this question. [strapping on helmet] I got this, fellas.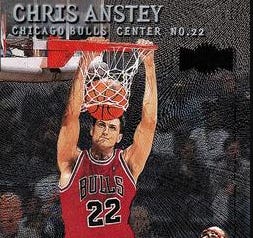 I'm a ranking expert, studying in the arts through my warfare in the blogging trenches, and ranking Chris Anstey is all about ranking him among Chris's.
This is next level stuff: you can't rank him among Ansteys! He's the first Anstey, and the last Anstey, and that's boring. So we'll rank him among Chris's.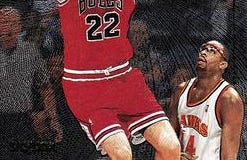 The worst Chris is Chris Columbus, for obvious reasons. The best is Chris McQueen, who Wikipedia says is a 30-year-old rugby player based in Brisbane, Australia, for obvious reasons. (If you must know the obvious reasons, it's that McQueen is an incredible last name and he also looks like this. I told you he was the best.)
So the rankings look something like this:
1. Chris McQueen
2. Chris Paul
3. Chris Herring (of 538 fame)
(KD NOTE: shoulda got chris to do this instead)
4. Christian 'Chris' Slater (of Mr. Robot fame)
...
32, tied. Chris Rock (of some unknown fame)
32, tied: Chris Pratt
(KD NOTE: what)
...
451. Chris Anstey
452. Christopher I of Denmark
...
Last. Chris Columbus (eff that dude)
The conclusion to this long-winded answer about why the Bulls signed Chris Anstey is that he is ranked very close to royalty -- Christopher I of Denmark. You asked a Mavericks expert, and I feel certain that's what happened here.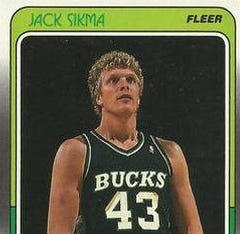 KD: How was Jack Sikma never a member of the Dallas Mavericks?
TIM: Jack Sikma is more of a concept than a basketball player, it has been proven. Also, there is only so much room for a curly, blond-haired big man with a lethal stepback jump shot in one franchise. You might argue Sikma could have paved the way for Dirk Nowitzki, but that's like saying Mr. Pibb paved the way for Dr. Pepper. No. It's possible to enjoy the knockoff and the original product, but not in close proximity. This should be relatively straight forward.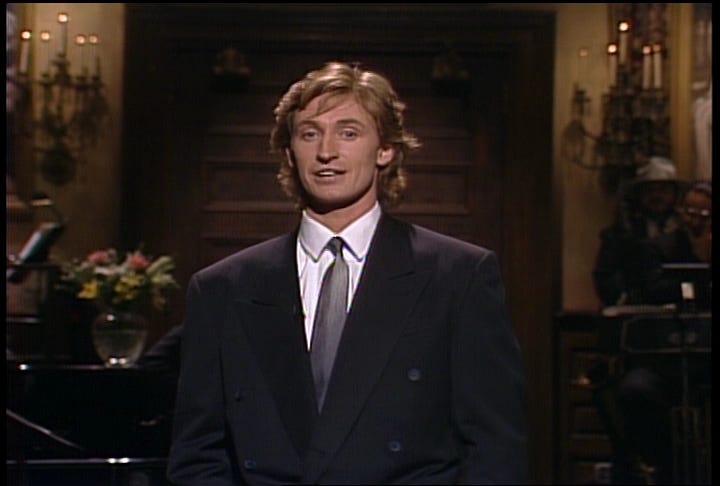 (KD NOTE: I then asked Tim to rank a series of things that I had just assumed been Dallas Mavericks at one point since 1980, but before he put a number alongside my assumptions, he wanted to offer this explanation.)
TIM: To be a Maverick, you must never become an All-Star during Dirk Nowitzki's prime, or be a point guard that Rick Carlisle micromanages, or have a thing for Toni Braxton and be willing to feud with your teammates about it, or be a wow-you're-solid-but-have-you-made-sportscenter-top-10-plays-even-once-in-your-entire-goddamn-career-you-boring-sack-of-good-basketball-plays type dude.
Never-Mavericks who are actually Should-Have-Been-Mavericks should excel in all those categories, or at least two of them.
Here are my rankings, presented without explanation. (It should be self-explanatory, after all.)
1. Martina Navratilova
2. An Aluminum Bud Light Bottle
3. Felton Spencer
4. Jim Jackson
5. Tim Hardaway Jr.
6. A Good Uniform Since 2001
Please do not tweet or yell at me about those rankings. It is final and correct. I'm a Mavericks expert, after all.
(More to come as Monday moves along, prior to a Behind the Boxscore night. Meet the warming air, people.)