(Never Too Much podcast: Three years! And we appreciate the Knicks! We often fear them.)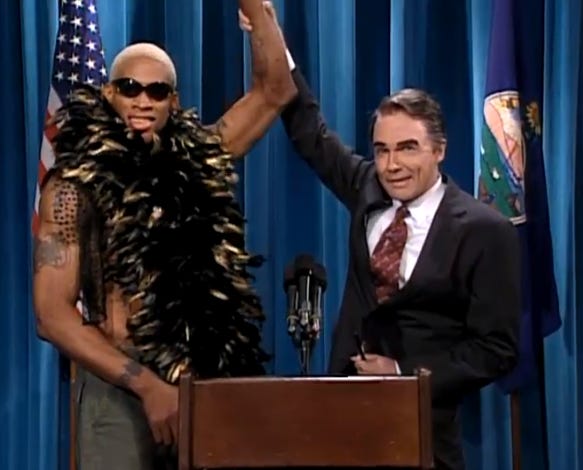 The Chicago Bulls wrapped up a home win over the New York Knicks in Game 2 of the 1996 Eastern semis on a Tuesday, May 7. A boon for Chicago, as the NBA didn't schedule Game 3 until Saturday.
The Bulls, up 2-0 following two bouts with Knickerbocker bruisers, were in pain.
"The wear and tear of playing close to 100 games" caught up to Michael Jordan (back spasms) in the opening round, Jordan removed himself from action twice against New York in Game 1 of the semifinals.
Cohort Scottie Pippen copped to performing only at "70 to 75 percent," grimacing through a 11-36 field goal mark in the first two wins of the series. The wrack of shooting for 72 wins between Nov. and April was tugging at Chicago, its opening round slugfest against Miami didn't help the preponderance of contusions.
Though Game 2's win provided three days of "rest" before the next contest, super sixth man Toni Kukoc couldn't make it out of the workweek. Only hours before the Bulls' plane was set to depart from Chicago on Friday afternoon, Kukoc sprained ligaments in his back during a final team practice, ruling him out for the series.
What promised to be a long week of rest and recovery only created chaos in Chicago's frontcourt. Kukoc shot just 1-11 at Madison Square Garden in 1995-96's regular season but his presence kept Chicago credible when Pippen and Jordan took their blows.
The Knicks gave Chicago all it could handle in losing efforts during the first two contests in the series, now New York would have MSG on its side in its efforts against a Bulls team that hadn't won a thing, yet.
Delighting in the compression, NBC scheduled the Bulls and Knicks to play on Saturday, May 11 and again on the next day.
Back-to-back playoff games at Madison Square Garden.
On Dennis Rodman's birthday weekend.
The Knick series was a busy time for Dennis. Basketball was often involved.
Dennis had a book to promote: 'Bad As I Wanna Be' debuted in stores on May 12, 1996. Rodman appeared at a downtown Chicago book-signing the day before Game 1 draped in a feather boa, he traveled to Greektown to visit with Oprah on the day between Games 1 and 2. The push worked, his story eventually topped the New York Times bestseller list, beating out 'The Dilbert Principle.'
The 34-year old averaged an NBA-best 14.9 rebounds in 1995-96's regular season, compiling a 26.6 rebound rate. Dennis pulled in 31 rebounds against New York in the first two games of the series as Chicago owned its offensive glass.
The 6-11 Kukoc's rebound rate was a third of Rodman's in 1995-96 but Toni won the Sixth Man Award going away, only missing a single regular season game. Kukoc's presence allowed Scottie Pippen to take five games off in March to rest an assortment of heel and back injuries, Toni served as salve when Rodman sat out a six-game suspension midseason for head-butting referee Ted Bernhardt.
New York was thick as shit, though.
The Knicks started Patrick Ewing and Charles Oakley up front, enough to call in sick, plus 250-lb. Anthony Mason led the NBA in minutes while starting at NYK small forward. It was a brutish lineup, and New York swept the Cavaliers in the first round of the 1996 playoffs in a series that featured an average of 80 possessions per contest.
These were slow drags, performances the Bulls would have to consider without Kukoc's 26-minutes of award-winning Toni. With Pippen aching and center Luc Longley (10 fouls in 60 minutes so far in the semifinals) minding the most Ewing a man could, Rodman was going to have to outrank even his own standards.
Dennis wrapped the boa 'round and got ready for work, but not before Lorne came calling.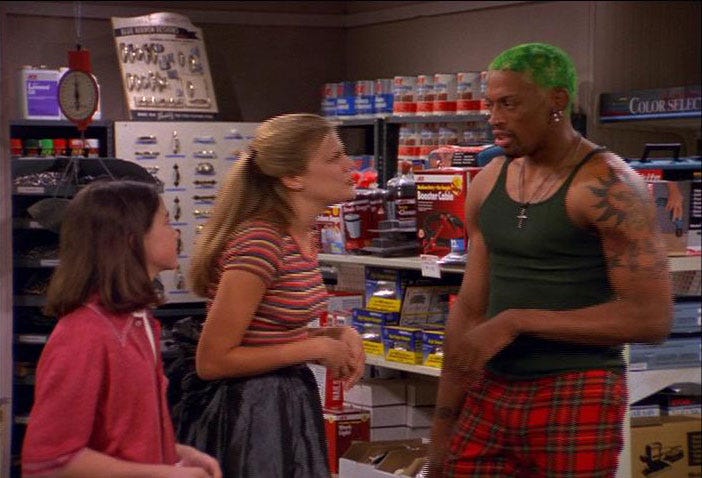 From the Northwest Indiana Times' Sunday edition on May 12, 1996:
Producers of the television show "Saturday Night Live" phoned Bulls media assistant Tom Smithburg early Saturday morning as they were putting the final touches on their skits.
Apparently, the guys at SNL were asking for Dennis Rodman to perform in a segment as a weatherman. Guess they wanted to add some thunder to the show.
Literally pressed for time, the paper couldn't recount Dennis' actual work on Saturday evening, or Sunday morning, while performing on 'Saturday Night Live.'
(On the night between back-to-back afternoon NBA playoff games.)
Rodman appeared in the cold open as himself, sort of.
Norm MacDonald's Bob Dole impersonation introduced Rodman as Dole's choice for vice-presidential candidate in the upcoming 1996 elections. Christine Baranski acted as SNL's host and musical guests The Cure played something called a "Mint Car."
Dennis also appeared as "Literary Correspondent" alongside MacDonald on 'Weekend Update,' minutes after Saturday night pogoed into Sunday morning. Promoting the insides of 'Bad As I Wanna Be' while shirtless and possibly nude, parroting his infamous interaction with Teddy Bernhardt.
After the bit asked MacDonald to chide Rodman for using coarse language, Dennis head-butted MacDonald right onto the floor. Crucially, Rodman was not asked to appear on that evening's 'Goat Boy' sketch.
Later in the month MacDonald appeared on 'Late Night with Conan O'Brien' to explain why Rodman's playact headbutt moved MacDonald to take a trip to the emergency room a day after the SNL episode aired.
In the segment, the Canadian comedian expressed frustration at receiving the first hospital bill of his life, alongside his unavailing attempts to explain to disbelieving ER staff that MacDonald's head hurt because "Dennis Rodman headbutted me!"
"On the TV!"
Rodman's 'Saturday Night Live' episode made no mention of the New York Knicks' Game 3 win over Chicago, a conquest that took place hours earlier and on the same network, over at Madison Square Garden.
Only NBC's mid-SNL advertisements promoted Rodman's appearance in Sunday's Game 4, the NBA basketball game scheduled 16 hours after SNL wrapped.
The Bulls lost Game 3 in overtime on Saturday afternoon, Rodman played all but 10 seconds of the 53-minute contest. He'd pulled 16 rebounds in the afternoon hours before appearing on late-night programming, and his night didn't end once evening turned to morning.
'Saturday Night Live' afterparties rage until the light threatens, hours which appeal to Rodman.
MacDonald explained his post-show experience with Dennis to The Big Lead in 2011:
I was at Saturday Night Live and Dennis Rodman came into the show. He was a guest on the show and the Bulls were playing the next day against the Knicks at noon, right?
I said, "Dennis Rodman is fuckin' there, he's got like eight whores, he's smoking weed and shit."
All of a sudden, like, we're at the afterparty, it's like four in the morning, the guy's still drinking and partying. I've got this inside information. He's probably going to suck the next day.
Game 4 was scheduled for 5:30 on Sunday evening, Mother's Day.
Norm MacDonald bet on the Knicks.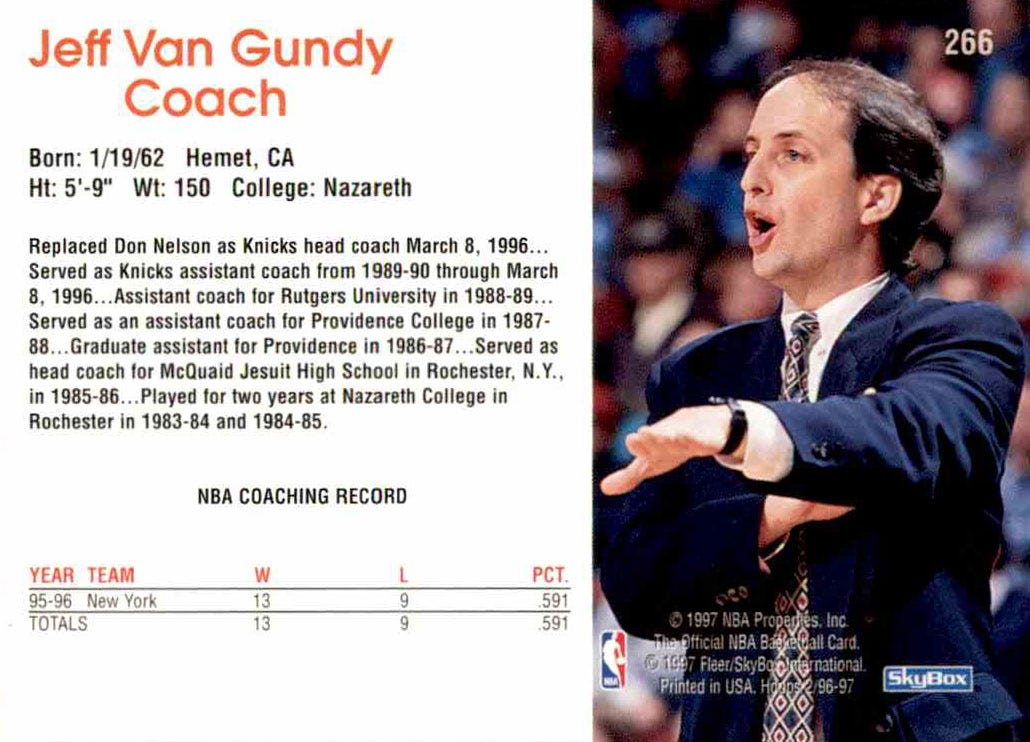 Back-to-back games in the playoffs weren't common, yet the NBA scheduled them until 1999.
The Knicks didn't play back-to-back playoff games during Pat Riley's run as head coach yet caught the quirk in 1996: Jeff Van Gundy's first postseason running the Knicks. Michael Jordan's B2B experience consisted of back-to-back losses against Detroit in 1988 and back-to-back wins over New York in 1989.
"It was normal then," Van Gundy told the Second Arrangement. His Knicks also played the Heat on back-to-back playoff nights in 1997, and against the Pacers in 1998.
Righteous between-game alterations weren't as paramount a necessity in 1996's back-to-back setting, Van Gundy relayed, because the Knicks and Bulls knew each other so damn well.
"It's not like there's a different level of preparation," Van Gundy added. "The Jordan-thing, the triangle, it's not like a ton changed."
In 1996, nary a mention was made of the back-to-back burden during Marv Albert and Matt Guokas' call. Press accounts from the time didn't bemoan the rush, Bulls coach Phil Jackson didn't carp about the concession nearly as much as you'd think Phil Jackson totally would.
It's a really weird thing to do, asking NBA teams to make count of playoff games in consecutive days, but this was also probably the best thing to ever ask of Dennis Rodman.
Chicago 94, New York 91 (Bulls lead series, 3-1)
Dennis wouldn't play all but 10 seconds in Game 4, no way, Phil Jackson was familiar with his team's starting power forward tripping the light fantastic and Phil liked to experiment anyway.
Chicago's first half saw stretches with Randy Brown and Steve Kerr in the same backcourt alongside Rodman, Scottie Pippen and Michael Jordan up front. Anything to get through another first half.
Forty-one year-old No. 3 center James Edwards received four rather conspicuous minutes (lifting four shots, making one) in the second quarter alongside small forward Jud Buechler (3-3 shooting in five minutes), whom Jackson slotted for a stretch at the four. With Longley again saddled with foul trouble, midseason signee John Salley worked eight compelling minutes at second center.
Every Bull minded the glass, and by design: Chicago "only" rebounded 25 percent of its misses in the Game 3 loss, down from (an outrageous) 40 percent in its two wins.
"One of the many strengths of the triangle is the ability to post up different players," Van Gundy explained to the Second Arrangement.
"Combine that with the movement and our double teams and it creates offensive rebounding opportunities. Dennis was a terrific offensive rebounder."
The Bulls picked up second chances on nearly half its misses in Game 4. Dennis acted as the backline comfort during a second quarter run that saw the Bulls force eight Knick turnovers, Rodman pulled five offensive rebounds in the first half, ten caroms total.
By the halftime break it was only a little after 6:30 PM on an early Sunday evening, Rodman already had ten boards and his Saturday night probably ended, like, 12 hours ago.
(And his Saturday began with an NBA game.)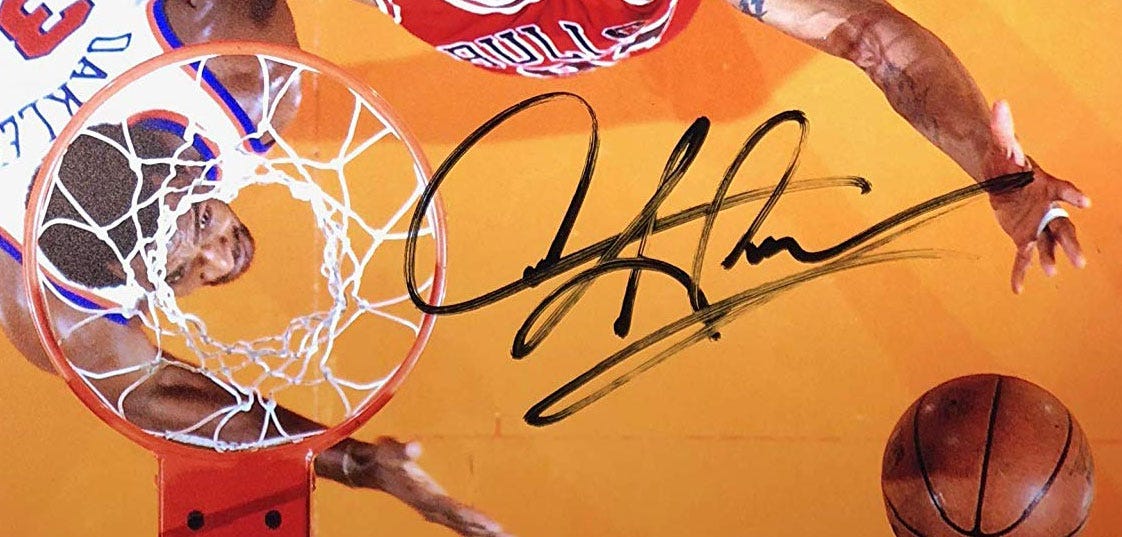 Dennis ran irrepressible all Sunday, hoisting long jumpers during breaks in the action, heaving long outlets passes within a competition averse to transition hoops, he even earned a technical a minute into Game 4 for slyly tapping the ball out of Charles Oakley's hands after the whistle stopped play.
"The NBA office is in New York," reminded Rodman after the contest.
"They want to make sure the game is close."
Dennis dished three assists out of the triangle, including one to Ron Harper for a four-point play. Rodman ate the lunch of Anthony Mason (0-2 on Sunday) during Mason's lone isolation foray, anticipating and accepting a charge on Mase's spin move.
Rodman spent half of Sunday splayed on some sort of floor.
He dove and slid into the Bulls bench after fruitlessly sprinting to corral his own block of a Patrick Ewing post-up shot, Dennis dove out of bounds to collect Randy Brown's block of a Charlie Ward jumper, he took another charge.
"He was a hard-nosed player," confirmed JVG. "Never dirty."
NBC hadn't discovered synergy yet: Marv Albert made only one mention of Rodman's "strong work on 'Saturday Night Live'" the evening before, utilizing the sort of language typically reserved for a long reliever's strut back to the dugout after steamrolling through a spotless eighth.
The effort was left to NBC reporter Jim Gray to disclose Dennis Rodman's broken right pinkie finger, originally dislocated during the regular season and re-aggravated by Rodman during a Game 4 tie-up with Patrick Ewing.
"He's playing with a broken pinkie," Gray reported from the sideline in the third quarter. "It's very painful to him, but he's going to continue in the game"
The Bulls scored 10 points in the first 10 minutes of the fourth quarter in Game 4, Chicago was starving for buckets when Jackson outlined the release to Rodman in a huddle with 1:41 left.
"(Jackson) said once I got the ball to go to the basket, do something to create something or do something with the ball."
Rodman created, at the moment's emotional peak, finding the seam to deliver a drive-and-dish to Chicago reserve center Bill Wennington, who stuffed a dunk.
"They figured I was too much of a chicken to take a shot, too much of a lazy bum to play offense," Rodman told the media following Game 4.
"Every once in a while I'll surprise you."
Ewing and Pippen traded buckets after Rodman's surprise. New York owned the ball and a one-point lead with 50 seconds remaining when Wennington (who lined up repeatedly against Ewing while the pair worked collegiately in the Big East) forced Ewing into a traveling violation.
The Bulls' next possession again featured Rodman dishing to Wennington, this time for a short jumper.
The Canadian center's two-pointer wrested the advantage from New York, a lead Chicago would secure with a Rodman defensive rebound on the next, game-sealing stop of a possession. After free throws confirmed it, the Bulls escaped Game 4 with a 94-91 win and a 3-1 lead in the series.
Rodman pulled 19 rebounds in the contest, 35 on the weekend (in about 30 hours), totaling 66 rebounds through a four-spot Charles Oakley and Anthony Mason combined for 70.
"So I bet against the Bulls," Norm MacDonald explained in 2011, "and he had like 300 rebounds and, like, what?"
Norm lost his wager.
"I guess these guys can just … I guess especially with basketball you just be stoned and play the fucking game."
Van Gundy, to the Second Arrangement, offered a broadcast air-appropriate take:
"You can't have all milk-drinkers on your team."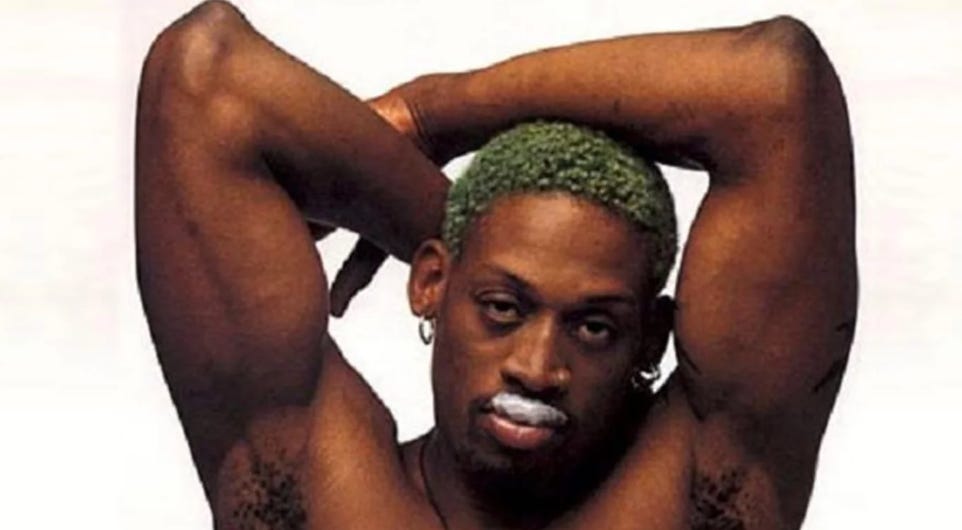 In the minutes after Game 4, Rodman related his sway to the Chicago Tribune's Sam Smith:
He wore a T-shirt that argued for legalizing same-sex marriages. He wore a furry black hat draped over his eyes.
"This is what I am," said Rodman, hair painted, tattoos rippling and body pierced, just coming off a 'Saturday Night Live' appearance and supposedly a late-night staff party into the early hours of Sunday morning.

"I wasn't always like this. It took me a while to find my identity and what I wanted to do and which direction I wanted to go.
"I don't try to be a big, big role model for kids. But kids look at me as independent and happy and free and I love what I'm doing, and that is more of a role model than anything."
When Dennis Rodman woke up on Monday, he was 35 years old.
IN THE WAY
Though I respect most of its members I am not what you would call "a Toto fan."
This song, however, burns because the Brothers Johnson do it.
To it.
Thank you for reading, listening! Considering contributing, you'll get cool NBA emails:
(From the Never Too Much podcast:
Patrick Ewing on Dennis Rodman the next year.
Dick Van Dyke on Dick Cavett in what turned into a sublime leg-crossing contest.)
(More to come.)