2019-20 is here: Chicago Bulls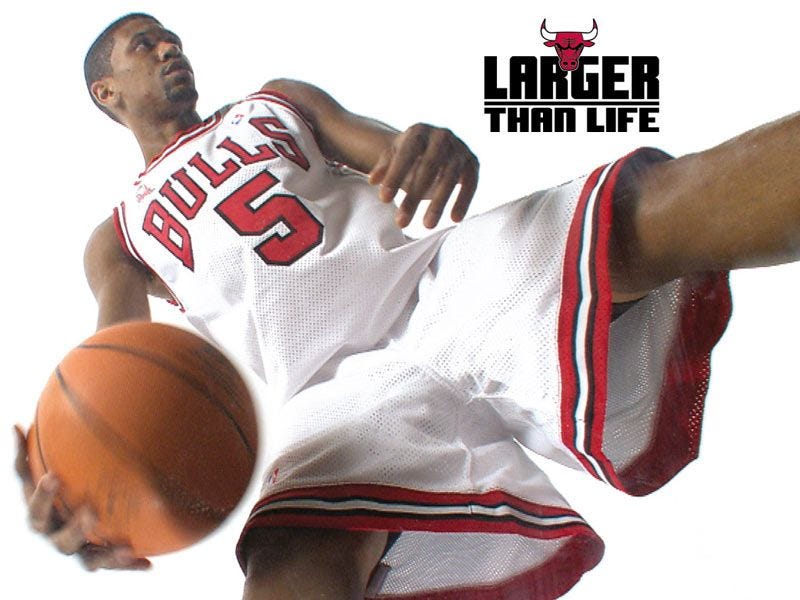 WHAT THEY TRIED IN 2018-19
To deliver on Fred Hoiberg's promise as an NBA head coach, shuttling spacey prospects around until the rest of the league couldn't catch up with whatever the Bulls already executed. Establish Jabari Parker as a superstar Chicago could call "home."
WHAT HAPPENED IN 2018-19
22-60, thirteenth in the Eastern Conference
Parker sucked, Hoiberg couldn't survive a 5-19 start to the season: I think he coaches football at Nebraska now.
Former volunteer high school football assistant Jim Boylen was brought in to further embarrass the club, he'd round into a passable coach by season's end but not before much consumable consternation.
A February trade with the Wizards relieved them of Jabari and eased the pour on Chicago's sweaty brow. Acquisition Otto Porter averaged 17.5 points on 48.8 percent three-point shooting as a Bull yet the club's front office (John Paxson, still, and Gar Forman) was keen to tank for the season's remaining weeks.
OFFSEASON INS AND OUTS
Here: Coby White (No. 7 overall pick in 2019 NBA draft), Daniel Gafford (No. 38 pick), Thaddeus Young (free agent, three years and $41 million), Tomas Satoransky (free agent via sign-and-trade, three years and $30 million), Luke Kornet (FA, two years and $4.5 million).
Gone: Robin Lopez (free agent, Milwaukee).
PLAN FOR 2019-20
Compete without making waves. Create 30-odd grunt of wins while developing the same pleasant hum so many other NBA also-rans manage to effectively buzz (without mortifying an entire fan base along the way). Everyone could stand to improve their their-point shooting a few notches, perhaps the youngsters could make up for Otto Porter's eventual cooling.
FREAK FOR 2019-20
Boylen overwhelms again as Chicago cornerstones Lauri Markkanen (19 and nine at age 21 last season, come on) and Wendell Carter (over 10 points and seven rebounds in 25 minutes per, 58 blocks in 44 games) chafe in the face of basketball they know better than.
Thaddeus Young finds it hard to contribute his brand of patient, settled basketball amidst a stocked frontcourt.
COME ON MAN LOOK AT
This felt like spring training, I cannot wait to watch him try this against taller, stronger men. Coby gives the whiff of a person aching to hurry up to their late 20s.
MAYBE LINEUP
C: Wendell Carter — I see no weakness in him. Imagine, last season was the worst Wendell Carter will ever be at the game of 'NBA.'
PF: Lauri Markkanen — team's point guard problems made second-year life tougher on Markkanen than it shoulda been, could take a massive jump this season if his shot is true.
SF: Otto Porter — should blend wonderfully in a slimming Chicago frontcourt, he can't fall back on some of the bad defensive habits that crept in toward the end of his stay in Washington.
SG: Zach LaVine — still passing, still trying defensively, gets to the line in tricky situations. It's on a bad team, but he's put the work in (while remaining a treat to watch during the rough spots).
PG: Tomas Satoransky — starts a good play and digs in on what the assistants are calling defensively. Satoransky isn't a superstar but he's a "point guard," this quote doesn't include the word "problem" any more.
THERE WILL BE A BENCH
PG: Ryan Arcidiacono — never gets to the line but hits a fair amount of his all-over shots, you can't count him out at the end of a shot clock. Two years for $6 million for the 24-year old, next year is a team option.
PG: Kris Dunn — was demonstrably worse in his second year with Chicago after proving demonstrably better the season before, Bulls have no choice but to keep him on in hopes he hits a wildly unsustainable amount of mid-range twos. Players that cause havoc are worth waiting out.
C: Cristiano Felicio — Bulls hoping for an improvement in dunking percentage, better understanding of "peripheral vision."
F: Thaddeus Young — all he was was everything for the Pacers last season, Bulls were right to pay for the space he'll fill.
C: Luke Kornet — hit 70 threes in 193 attempts (36.3 percent last season), isn't really impressive in warmups, either.
F: Denzel Valentine — turned it on a little during his second season but missed what woulda been the 25-year old's third campaign with a series of left ankle surgeries, "procedures." This isn't the best time for a position change, despite Chicago's icky swingman depth, there's no shame in being Otto Porter's pretty-OK backup until the next contract figures itself out.
F: Chandler Hutchinson — struggled through an undistinguished rookie year, but it was hard to fit in with that mess. Problem for Chandler: Chicago is gonna be a mess this year, too.
F/C: Daniel Gafford — ferocious shot-blocker and throwdown artist is a laaangsty 6-11, should be some fun this season.
G: Timothe Luwawu-Cabarrot — 25-year old has not been good at NBA basketball yet.
(UPDATE: So now he's on Cleveland.)
SG: Brandon Sampson — minor league callup is gonna have to hit a lot better than 38 percent (11-29) from long range in order to make up for all that other stuff he isn't doing.
PG: Shaquille Harrison — pugnacious defender a delight to watch perform, is left-handed yet can punch the ball out of bounds with either fist.
G: Coby White — could finish May batting .180, if you know what I mean, but these years will be worth it.
PROJECTED RECORD
32-50, eleventh in the East.
LET'S WATCH THIS
This entire uncomfortable interview is just one, red, fuzzy sweater.
A little background into our sad, little fight.
PREVIOUSLY: Toronto, Indiana, Washington, Atlanta, Charlotte.
NEXT: Milwaukee.
Thank you for reading, listening!
(More to come.)